"It's a children's book, I've got better things to read."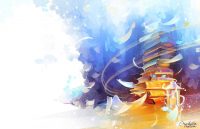 Hey, everyone, welcome to your Harry Potter Lexicon Minute. I'm Nick Moline, The Harry Potter Lexicon's resident tech wizard, and this is the story of how my adventure in J.K. Rowling's wizarding world began.
It was somewhere around late 2000 or early 2001 that I first heard about Harry Potter. I first heard about it because of the call to arms from some Christian groups that were calling for banning the books, and even book burning. Coming from a conservative background, the allegations that the books were turning kids to the occult concerned me, but I frowned on the idea of banning books in general, and refused to pick up the cause on a book I hadn't actually read. But I didn't read the books, not because of the book banning, but because "It's a children's book, I've got better things to read."
In December of 2001, I happened to get a handful of vouchers for free tickets to see any movie at a particular theater in Fort Worth. One of the most popular movies of the time was, of course, Harry Potter and the Sorcerer's Stone (as much as I wish it was Philosopher's Stone, alas, it was the USA). "Why not?" I thought. The ticket was free so I'd lose nothing but time, and while I didn't want to read a children's book, I had no qualms with seeing a movie. I figured if there was anything deeply evil about the story, I wouldn't I be able to tell from the movie? I expected to find out the fears people had were overblown, and they were, but what I didn't expect was how entertaining the story was.
A couple of months later, my uncle, who lived with my grandmother died suddenly. My mother and I were going to fly out at a moment's notice to comfort her. As we packed hurriedly, I found myself desperately searching the house for a book I hadn't read to bring with me. I happened upon a worn copy of the Sorcerer's Stone book that someone had given my little brother. I snatched it up thinking "well maybe the evil stuff was cut from the film."
As I sat in the airport reading, a young kid walked up to me and asked me how many times I'd read it. He couldn't have been more than 7. I told him it was my first time and he said that he'd read all 4 books 4 times each. I looked up at his mother, who beamed at her son, so proud of her little reader. I looked at the thickness of the book, completely unaware that each subsequent book was bigger, and was impressed. Not only could I not find anything evil, but this book was encouraging young kids to read?
By the time I had landed at LAX I had read the whole book and needed something else to read. I begged a relative to take me to a bookstore that night so that I could buy the 3 other books available at that time to see where the story went from there.
It wasn't until a short way into book 3 that I truly realized how special this series is. But that is a story for another minute.
Podcast: Play in new window | Download (Duration: 3:11 — 3.8MB)
Subscribe: Google Podcasts | Stitcher | RSS
Commentary
Notes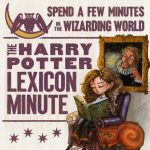 In the Harry Potter Lexicon Minute podcast you'll hear the voices of our editors sharing some of the many little things which delight us about the Wizarding World. In each podcast, just a couple of minutes in length, we'll talk about anything from cool trivia and interesting canon passages to the latest Wizarding World news. We hope you'll join us! And we'd love to hear from you as well. Feel free to use the comment section on the blogpost for each podcast to post your thoughts.
If you need a great podcast player for this and all your podcasts, give the PodBean app a try.
Special thanks go to Felicia Cano who gave us permission to use her amazing artwork of Hermione reading a book for the logo, which was created by Kim B.
Pensieve (Comments)