"Death Eaters ... "It's what You-Know-Who's supporters called themselves. I think we saw what's left of them tonight - the ones who managed to keep themselves out of Azkaban, anyway."
-- Bill Weasley (GF9)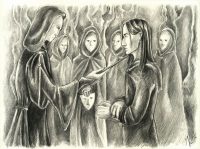 Here's the thing when it comes to the Dark Lord's followers: There aren't that many of them. When I was watching Deathly Hallows Part Two during its midnight premiere, my groan was probably heard by everyone in the theater when, behind Voldemort, appeared (what seemed to be) a hundred thousand Death Eaters. There aren't even that many wizards in Britain.
I have done multiple readings of the books, intended solely on obtaining any and all information about the Death Eaters. Because of this, I have been able to accommodate for where every known Death Eaters is at all points in the series. It has taken some minor and not-so-minor leaps of faith to compose this guide. So it probably isn't completely accurate. But alas, stay with me as I try to sort this all out.
Note: I am not going to include Snape in these lists because he was a spy and not a real Death Eater in the second wizarding war. Don't like that? Fight me.
Voldemort's Rebirth
The first time we see the Death Eaters formally converge is during their master's rebirthing ceremony in the Little Hangleton graveyard. To understand which Death Eaters were present during this event I started with the ones known to definitely be there (e.g. Lucius Malfoy, Walden Macnair, Avery, Crabbe, Goyle, Nott, and Peter Pettigrew).
Additionally, in Half-Blood Prince chapter 'Spinner's End' we learn from Snape that he was among the many Death Eaters who did not go to Azkaban for their crimes. The three examples he gives were Lucius Malfoy, the Carrows, and Yaxley. Save for Lucius, that adds three more Death Eaters that, since they weren't in Azkaban, would likely have Apparated to the Dark Lord's side on that summer night; the Carrow siblings, Alecto and Amycus, and Corban Yaxley (we recently learned his first name in the new Slughorn writing from the Pottermore Presents eBooks).
Now here's where my speculation may be inaccurate. There is one more Death Eater that I believe was also there that night: Selwyn. This male Death Eater accompanied Travers to Xenophilius Lovegood's house when he turned in Harry Potter to the Ministry. And according to Umbridge, the Selwyn family is an old pure-blood one. I strongly suspect that he did not go to Azkaban. We know that ten high security prisoners escaped from Azkaban in January of 1996 (more on them in a moment). Of these ten, I am certain of eight. And based on my guesses, the two left were Gibbon and Jugson, whom we know very little about.
Now, Selwyn could have easily been switched with either of these two. However, I think Gibbon went to Azkaban after the first wizarding war because Remus Lupin recognized him during the Battle of the Astronomy Tower. I could be wrong, but Lupin probably recalled his face from the wanted posters of the Azkaban escapees more than a year before.
For Jugson, he is only mentioned in passing when Lucius (very helpfully) yells out every Death Eaters' name when splitting up to chase Harry and his friends in the Department of Mysteries. Here I take even more of a leap; I think that Voldemort made a conscious effort to assign most of the Azkaban escapees into that retrieval group for the Ministry (probably as a means to get them back in the action). Dolohov, the Lestranges, Mulciber, and Rookwood all escaped from Azkaban and were members of the retrieval group. Taking my theories of Gibbon and Jugson to be truth, this would leave Selwyn the only other known Death Eater not to have gone to Azkaban and therefore available for Voldemort's rebirth. As you can see, I took many shots in the dark. Or at least near dark.
Given everything mentioned, I believe the ten known Death Eaters at Voldemort's rebirth were:
Alecto Carrow
Amycus Carrow
Avery
Crabbe
Goyle
Walden Macnair
Lucius Malfoy
Nott
Peter Pettigrew
Selwyn
Corban Yaxley
Yet even after all that hard work, one line in Goblet of Fire (chapter 'Priori Incantatem') proves I'm only a third of the way there:
…and what use would it be to deprive Voldemort of his wand, even if he could, when he was surrounded by Death Eaters, outnumbering at least thirty to one?
If we take Harry's observation to be truth, then there were at least twenty more Death Eaters during the rebirthing ceremony that are unaccounted for. Fun.
Azkaban Escapees of 1996
In the chapter 'The Beetle at Bay' in Order of the Phoenix, this line appears:
…she spread the newspaper on the table in front of them and pointed at ten black-and-white photographs that filled the whole of the front page, nine showing wizards' faces and the tenth, a witch's.
Obviously, the witch is our dearest Bellatrix Lestrange. As for the nine wizards, I explained in paragraph six my reasoning for including Jugson and Gibbon among the escapees. Six more are referenced/seen in Goblet of Fire chapter 'The Pensieve' being sent to Azkaban: Antonin Dolohov, Augustus Rookwood, Mulciber, and Travers; as well as the two Lestrange brothers, Rodolphus and Rabastan. That leaves only one more wizard left.
In Deathly Hallows chapter 'A Place to Hide', the trio are ambushed by Antonin Dolohov and Thorfinn Rowle while sitting in a cafe. When the Death Eaters are incapacitated, Ron says this:
That's Dolohov. I recognize him from the old wanted posters. I think the big one's Thorfinn Rowle.
It is possible Ron knew Rowle from something else, but it's more likely Rowle had a wanted poster as well and Ron just had a harder time remembering him, hence the "I think".
My list of the ten Azkaban escapees in January 1996:
Antonin Dolohov
Gibbon
Jugson
Bellatrix Lestrange
Rabastan Lestrange
Rodolphus Lestrange
Mulciber
Augustus Rookwood
Thorfinn Rowle
Travers
Battle at the Department of Mysteries
Order of the Phoenix chapter 'Beyond the Veil' says it all:
Harry put his ear close to the door to listen and heard Lucius Malfoy roar: 'Leave Nott, leave him, I say, the Dark Lord will not care for Nott's injuries as much as losing that prophecy — Jugson, come back here, we need to organize! We'll split into pairs and search, and don't forget, be gentle with Potter until we've got the prophecy, you can kill the others if necessary — Bellatrix, Rodolphus, you take the left, Crabbe, Rabastan, go right — Jugson, Dolohov, the door straight ahead — Macnair and Avery, through here — Rookwood, over there — Mulciber, come with me!' 
Thanks Lucius! You were finally helpful for once.
Antonin Dolohov
Avery
Crabbe
Jugson
Bellatrix Lestrange
Rabastan Lestrange
Rodolphus Lestrange
Walden Macnair
Lucius Malfoy
Mulciber
Nott
Augustus Rookwood
Battle of the Astronomy Tower
After the events of Order of the Phoenix, Voldemort seems to have lost about half of his followers. That's a pretty huge loss, but it doesn't account for any new recruits (such as a certain Malfoy). Not to mention the Imperiused, Dementors, and giants. But of the known Death Eaters only Bellatrix, the Carrows, Gibbon, Goyle, Pettigrew, Rowle, Selwyn, Travers, and Yaxley managed to stay out of Azkaban as the war began to heat up.
So when it came time to send Death Eaters into Hogwarts to assist Draco Malfoy in murdering Albus Dumbledore, Voldemort only had a select few to choose from (as far as we know). Alecto and Amycus Carrow, Yaxley, and (non-Death Eater but helpful nonetheless) Fenrir Greyback were all at the top of the Astronomy Tower when Snape killed Dumbledore. We also know Gibbon was killed by a stray Killing Curse shortly before Dumbledore and Harry's arrival. But three other Death Eaters were busy fighting in the corridor below, and identifying them has been tricky.
Thorfinn Rowle (often referred to as "the big blond") was heading up the chaos, but two more Death Eaters were fighting at the same time. We know Travers escaped from Azkaban the year before, but he wasn't part of the team that got caught in the Ministry and arrested. So I think he was one of these fighters. And since Travers and Selwyn seemed buddy-buddy at Lovegood's house, my guess is Selwyn was the last one. That leaves Mr. Goyle as the only other known Death Eater who may have gone in Travers' or Selwyn's stead, but I think not. He is never mentioned since Goblet of Fire and his kid is at Hogwarts at the time—wouldn't he have wanted to say hi? But in all seriousness it looks like Rowling completely forgot that she made Gregory Goyle's father a Death Eater, or just stopped using him for whatever reason. I don't know. Your guess is as good as mine.
Anyway, my list for the Death Eaters that participated in the Battle of the Astronomy Tower is as follows:
Alecto Carrow
Amycus Carrow
Gibbon
Draco Malfoy
Thorfinn Rowle
Selwyn
Travers
Corban Yaxley
What's interesting is that only the Carrows, Malfoy, and Rowle escape the Hogwarts grounds. The others were incapacitated during the battle and presumably went to Azkaban, where they were broken-out only a few weeks later. And now, considering all known Death Eaters, Voldemort must have a record low in those few weeks before the second mass break-out.
Meeting at Malfoy Manor
With everyone out of Azkaban and the Ministry nearly his, Voldemort calls a meeting of all the Death Eaters to discuss—a whole bunch of things. It was pretty easy to guess who was there. I just included everyone who wasn't dead. Of course there was Pius Thicknesse, too, who was Imperiused (so not a real Death Eater) and Narcissa Malfoy, who was not a Death Eater but a sympathizer.
Alecto Carrow
Amycus Carrow
Antonin Dolohov
Avery
Crabbe
Goyle
Jugson
Bellatrix Lestrange
Rabastan Lestrange
Rodolphus Lestrange
Walden Macnair
Draco Malfoy
Lucius Malfoy
Mulciber
Nott
Peter Pettigrew
Augustus Rookwood
Thorfinn Rowle
Selwyn
Corban Yaxley
Battle of the Seven Potters
In Deathly Hallows chapter 'The Seven Potters', Rowling writes:
And then, out of nowhere, out of nothing, they were surrounded. At least thirty hooded figures, suspended in midair, formed a vast circle in the midst of which the Order members had risen, oblivious —
Thirty. That lovely number again. At least in this case, if I were to assume that all the Death Eaters at the meeting at Malfoy Manor were summoned in this attack force, we're at twenty (including Snape).
However, I doubt that the Malfoys were among these numbers. Lucius had just recently lost his wand to Voldemort, and Draco probably prefered to stay home with mummy and daddy (and I doubt Voldemort would have cared). Speaking of Voldemort not caring, Pettigrew likely stayed behind as well. He doesn't seem like he'd be very adept at broomstick dueling, and at this point in his life, Pettigrew seems to be more of a house-elf to Voldemort than a Death Eater.
That brings us down to seventeen known Death Eaters. We know that Selwyn was present:
Behind him came another scream, 'Your wand, Selwyn, give me your wand!'
Kingsley sees Travers:
'Travers's hood fell off when I cursed him, he's supposed to be inside too.'
Tonks sees Bellatrix and Rodolphus Lestrange:
'Bellatrix,' said Tonks. 'She wants me quite as much as she wants Harry, Remus, she tried very hard to kill me. I just wish I'd got her, I owe Bellatrix. But we definitely injured Rodolphus…'
We know there was a least one Imperiused, Stan Shunpike:
The closest Death Eater swerved to avoid it and his hood slipped, and by the red light of his next Stunning Spell, Harry saw the strangely blank face of Stanley Shunpike — Stan —
Since we have at least thirteen people unaccounted for, most of these are probably Imperiused servants such as Shunpike. Pius Thicknesse may have been there as well, though perhaps he needed to be at the Ministry to keep up his appearance as Head of Department of Magical Law Enforcement.
The Death Eaters who most likely participated in the Battle of the Seven Potters are as follows:
Alecto Carrow
Amycus Carrow
Antonin Dolohov
Avery
Crabbe
Goyle
Jugson
Bellatrix Lestrange
Rabastan Lestrange
Rodolphus Lestrange
Walden Macnair
Mulciber
Nott
Augustus Rookwood
Thorfinn Rowle
Selwyn
Corban Yaxley
We have very little information to determine exactly who was there during the battle, but in this case, the 'who-was-there' is not as important as the 'who didn't make it out'. And there's a high probability that several Death Eaters (or Imperiused) died during the Battle of the Seven Potters. Kingsley says that he "injured two, might have killed one". Ron stuns a Death Eater straight to the head. Tonks says they injured Rodolphus Lestrange. For all we know, he may have died from those injuries at a later time (Bellatrix certainly wouldn't have bothered to mention it) [He did survive long enough to give information to Delphi about her parentage, as we learn in "Cursed Child." –SVA]. One or two of the four Death Eaters following Harry and Hagrid might have been killed during the chase. Their fellow Death Eaters tried to swoop down and save them from plummeting to their doom, but it's unlikely they succeeded in catching every person that fell. And who knows what happened in the other pursuits with the Order members. So which unfortunate soul's died? The world may never know. But those people would not be able to participate in the most important battle of the war…
(Note: thanks to reddit user /u/blibbering-humdinger for bringing these details to my attention)
Battle of Hogwarts
The culmination of the war between Voldemort and those who opposed him, the Battle of Hogwarts marked the end of the Death Eaters' regime in wizarding Britain. Just as with the meeting at Malfoy Manor, I'm going to make the assumption that every Death Eater was in attendance during the battle (at least in the beginning). Although I don't consider them to be Death Eaters, Pius Thicknesse and (most likely) Stan Shunpike were among the Imperiused who would have been summoned by Voldemort to fight alongside the Death Eaters, wearing the same robes and masks.
The book makes it seem like there are at least a dozen more Death Eaters than I have here, and this is probably the case. Voldemort had control of the Ministry and had all but won against the Order of the Phoenix. I'm sure many wizards and witches were desperate and fearful, and decided to join the Death Eaters rather than face their wrath. Whether these people would be prepared to kill innocents for their own safety (which isn't even assured once you join) is beyond me. I just don't have enough information to know.
My list of Death Eaters who fought in the Battle of Hogwarts:
Antonin Dolohov
Avery
Crabbe
Goyle
Jugson
Bellatrix Lestrange
Rabastan Lestrange
Rodolphus Lestrange
Walden Macnair
Mulciber
Nott
Augustus Rookwood
Thorfinn Rowle
Selwyn
Travers
Corban Yaxley
Note: I took the Carrow siblings out because the chances anyone came back for them up in Ravenclaw Tower was highly unlikely. I also took Lucius and Draco out because the former was with Voldemort the whole time and the latter was sorta just running around trying not to die.
It seems impossible that only sixteen Death Eaters participated in the Battle of Hogwarts, even more confirming my stance that, over the past couple years, they had received a significant number of recruits. Or if you take the "outnumbering at least thirty to one" quote in Goblet of Fire to be true, then there were twenty more Death Eaters Voldemort had at his disposal since his rebirth. Furthermore, J.K. Rowling has said on Pottermore that Lucius Malfoy
…helped ensure the capture of many of Lord Voldemort's followers who had fled into hiding.
So the ones who were defeated at Hogwarts weren't even the last of them.
Even at the height of Voldemort's power during the first wizarding war, I have calculated that he only had twenty-seven known Death Eaters. Twenty-seven. While that number is probably higher, it's still not one hundred thousand.
I've always found those who followed the Dark Lord extremely interesting. Not only pure-bloods joined, but many half-bloods too. And J.K. Rowling has said in an interview that there were Death Eaters from every Hogwarts House, which makes me wonder who among my lists was a Hufflepuff (my money's on Jugson). I hope you enjoyed reading my very in-depth analysis, and feel free to comment if you think I completely screwed up on something, since I certainly was stretching in places. I always enjoy discussing those eaters of death.
Commentary