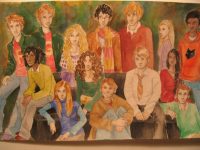 Who makes the Lexicon tick  
The Harry Potter Lexicon came into being back in 1999. At that time, all the work was done by me, Steve VanderArk. When the fifth book was published in 2003, all that changed. I knew I needed some help with vast amount of new canon. So Michele Worley came on board at that time and did a tremendous job. Over the next few years, a truly gifted group of editors became the team making the Lexicon the world's most amazing reference about the world of Harry Potter. Those editors were Lisa Bunker, Josie Kearns, Belinda Hobbs, Paula Hall, Kip Carter, Denise Proctor, Clint Hagen, and Penny Linsenmayer. All through these years, from 2000 through 2007, we were given permission to use artwork and essays by a large number of amazingly talented fans.
When we created a new resource called the Canon Portkey, another group of devoted fans came on board to add and edit information. They were Mike Ball, Martje Ross, Ruth Meyer, Elanor Isolda, David Stamm, Kimmy Blair, Naomi Boyer, Gina Anstey, Torill Gronhaug, and Meann Ortiz. Artwork for the Portkey and for the header of the Lexicon was done by an amazing fan artist, Camilla Engelby, who also designed the beautiful cover for my book In Search of Harry Potter.
After 2007, the site settled down as new canon became scarce. The editorial staff moved on to other things. Eventually, work on the site fell back to me.
When the new Lexicon began to take shape in 2014, we needed a group of editors to refresh the site. Jeanne Kimsey was the first to come on board, and as others joined the staff, she became senior editor. Eventually we had a team of over thirty editors from all over the world who worked to make the new site a reality.
Senior staff
Steve VanderArk, creator and editor in chief
Trish Drasnin, Senior Editor
Nick Moline, Tech Wizard
The current active editors, in no particular order
Kathryn Thomas, Special Projects Editor
Brenda Goldstein, Art Editor
Eileen Jones
Cathy McCabe
Abby Koop
Additional current staff
Hillary Minne, Illustrator and art editor
Corinne Demyanovich
Claire Jordan
Selena Gallagher
Nadia Mulvihill
Bridget Bartlett
Ashmita Shanthakumar
ibid11962
Rosie Payne
Amy Holland
Stephanie Parkinson
Sophie Ludkin
Kim Campbell
Erin Trites
The site was designed by Patricio Tarantino and brought to life by Nick Moline.
We have also had editing help from
Paula Hall, Essay Editor Emeritus
Lisa Bunker, Senior Editor Emeritus
Jeanne Kimsey, Senior Editor Emeritus
Kaylee Nield
Cheyenne Gordon
Beth Hine
Nick Schulte
Susan Schutjes
Catherine Wilton
Nathan Angeles
Brianna Charlot
Sylvia Greybe
Irvin K
Barbara Moline
Erin Hawkins
Amy Pearson
Snuffles
Jennifer Bahniuk
Frodhika Potter
Madison Elizabeth
Leah Goldman
Helena Livesey
Kelsey Burke
Emma Woolfson
Maia Pham
Amber Elizabeth
Molly Diggory
Mike Miller-Ernest
Rufus Silber
Ian Aebel
Leah McCurdy
Madison Rupp
Gwydion Martin Ventura
Syd Smith
Leigh Kennedy
Hannah Tolle
Laura Riedel
Ali Sousa
Huge thanks to each of these dedicated Harry Potter fans from all over the world who have worked so hard to bring the new Lexicon to life.
Yes, I know that the artwork on this page by Jenimal is actually of Dumbledore's Army. I leave it to others to decide which of our editors is represented by which member of the D.A.
Software that powers the site
The Harry Potter Lexicon Website is a custom frontend with custom backend plugins over the top of the popular open source WordPress Publishing Platform.  The HTML layout designed by Patricio Tarantino was built upon the Bootstrap CSS and JS framework, with some additional JS functionality based on jQuery.  The frontend layout is rendered using the Twig templating engine by SensioLabs, integrated with WordPress using Timber by Upstatement.
Live Weather on the home page and location pages is provided by the Open Weather Map API.  Live and historical currency conversion rates (other than Galleons to/from Pounds which was provided by J.K. Rowling in interviews) is provided by the Open Exchange Rates API.
The Weather, Wind and Moon phase icons come from the Weather Icons Icon Font.  Other Fonts used on the site come from Google Fonts.  A custom Icon Font was created with Fontastic using icons from The Noun Project.
Satellite Maps of wizarding locations (both established and inferred) provided by the Google Maps API.
Commentary