"Of course it is happening inside your head, Harry, but why on earth should that mean that it is not real?"
I first read Harry Potter when I was ten. I adored it and received CS and PA for my eleventh birthday. I began reading CS, but my parents were concerned about the darker scenes. I had almost four Potter-less years. Then I saw the PS and CS movies. The movies reminded me how much I loved Harry's world and decided to begin reading Harry Potter again. Suffice it to say that, once I began them, I never looked back.
Harry Potter really developed my love of reading and literature. It basically changed my path in life. I became interested in analyzing books and looking at how JKR developed her plots. I loved how she used ideas and themes from Chaucer, Austen etc. and integrated them into her novels. That September, I began my first year at University. After graduating with my Honours B.A. in Literature, I went on to earn a diploma in Journalism.
Cathy McCabe (CM)
Ilvermorny House
Pukwudgie
Favorite HP Book
Prisoner of Azkaban
Favorite HP Film
Prisoner of Azkaban
Favorite Character
Luna Lovegood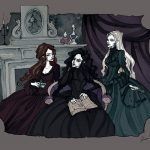 Only Black in name: Andromeda Black Tonks
•
It could be argued that Andromeda Tonks is only a tertiary character in the Harry Potter novels; she only appears in one scene in the final book. Still, I have always found Andromeda Tonks to be an amazingly interesting character. Perhaps, it is this lack of information that causes me… Read More