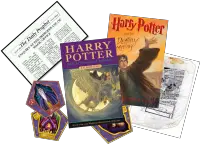 The Harry Potter Lexicon is an attempt to catalog in a user-friendly way all the information J. K. Rowling has given us about the world she has created, the universe of Harry Potter. For that purpose, a distinction is made between information which comes from the author herself and that which comes from other sources, whether officially licensed or not. Only information which comes directly from Rowling is considered to be "canon" here on this website.
The Lexicon prioritizes canon sources. It is important for people trying to better understand the Harry Potter universe that they understand which canon sources are considered "more correct." In a conflict of facts, higher canon trumps lower canon. However, in some cases later writings trump earlier writings simply because Rowling's process of creation is evident and either changed her mind or fine-tuned the information. A good example of this are the departments of the Ministry of Magic. Several departments were mentioned offhand in earlier books which disappeared when she set down the official description of the Ministry in 2001 while working on book five.
Here are what we at the Lexicon define as the three levels of canon:
Primary Canon
The Harry Potter novels
Bloomsbury editions, with 2004 corrections
Secondary Canon
Other Harry Potter books by Rowling
Fantastic Beasts: The Original Screenplay
Other writings by Rowling
Tertiary Canon
Other sources considered to be canon
Where they don't conflict with the above sources:
All Sources used in the Lexicon
For more detailed information about the Lexicon's position on canon, check out the Lexicon Sources page.
Commentary