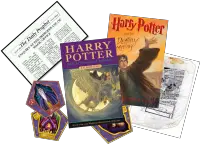 The Harry Potter Lexicon is an attempt to catalog in a user-friendly way all the information J .K .Rowling has given us about the world she has created, the universe of Harry Potter. For that purpose, a distinction is made between information which comes from the author herself and that which comes from other sources, whether officially licensed or not. Only information which comes directly from Rowling is considered to be "canon" here on this website.
The Lexicon prioritizes canon sources. It is important for people trying to better understand the Harry Potter universe that they understand which canon sources are considered "more correct." In a conflict of facts, higher canon trumps lower canon. However, in some cases later writings trump earlier writings simply because Rowling's process of creation is evident and either changed her mind or fine-tuned the information. A good example of this are the departments of the Ministry of Magic. Several departments were mentioned offhand in earlier books which disappeared when she set down the official description of the Ministry in 2001 while working on book five.
Here are what we at the Lexicon define as the three levels of canon:
Primary Canon
The Harry Potter novels
Bloomsbury editions, with 2004 corrections
Fantastic Beasts: The Original Screenplay
Fantastic Beasts and Where to Find Them: The Original Screenplay (WFT)
Fantastic Beasts: The Crimes of Grindelwald: The Original Screeplay (CG)
Secondary Canon
Other Harry Potter books by Rowling
Scholastic and other English-language editions of the novels
Other writings by Rowling
Tertiary Canon
Other sources considered to be canon
where they don't conflict with the above sources
online chat and interview transcripts where Rowling is quoted exactly
Harry Potter and the Cursed Child – script for the play which is not written by Rowling but which she considers to be canon
some props created by MinaLima for the Harry Potter films, where we know that Rowling contributed facts:

 The designers start work six months before shooting with visual research and questions for Rowling to get more information for items like Scamander's passport."We need to ask Jo those things like what's his birthday, where was he born, all those details that you might not see," Mina said. "We have to create the integrity of a piece." (Gumuchian, Marie-Louise. Prints and permits: graphics help bring Rowling's magical world to life. Reuters online).
"We actually did have to have a couple of meetings with Jo," Mina said. "We had some seemingly insignificant questions, like 'What's Newt's birthday?' so we could put it on his passport, or 'What's Tina's middle name?' so we could put it on her ID card. [It] was really nice, to sit down with her and go through some of these things. And she knew straight away what the answers were." (Jacob Shamsian. The newspaper headlines in 'Fantastic Beasts' prove the impressive attention to detail J.K. Rowling puts into her wizarding world. Insider, 25 November 2016.)

other interviews where Rowling is not quoted exactly, but her comments reported
deductions made from canon, where such deductions are self-evident or virtually certain. (Any such assumptions are often challenged by fans or rejected outright. However, some amount of deduction is necessary and perfectly acceptable. In the Lexicon, we try to make sure we always indicate when we're making these kinds of assumptions.)
All Sources used in the Lexicon
For more detailed information about the Lexicon's position on canon, check out the Lexicon Sources page.
Commentary
Pensieve (Comments)