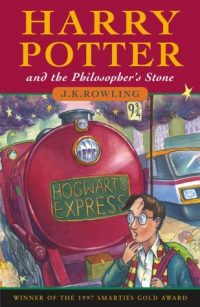 Harry Potter and the Philosopher's Stone is the first in the series of Harry Potter novels by J.K. Rowling. It was published in the U.S. as Harry Potter and the Sorcerer's Stone a year after being published in the UK.
first British printing: July 1, 1997, Bloomsbury Books
first American printing: September 1, 1999, Scholastic, Arthur A. Levine Books
U.S. illustrations by Mary GrandPré, 1998
Resources:
Reader's Guide to Harry Potter and the Philosopher's Stone
a complete chapter-by chapter guide with notes and commentary
Calendar and Dates
The story starts on 1 November 1981, then jumps to 1991, where we follow Harry through his first year at Hogwarts and to his journey back to London at the end of June, 1992.
Dedication
Dedication:
For Jessica, who loves stories,
For Anne, who loved them too;
And for Di, who heard this one first.
Interesting facts and notes
facts & trivia:
The title refers to a stone sought after by alchemists, a stone which was reputed to turn other metals into gold and to grant immortality.
title in the U.S.: Harry Potter and the Sorcerer's Stone
comments by Rowling about the book:
Q: Do you rewrite a lot?
A: A huge amount. Only once have I sat down, written something end to end, and let it stand. That was the chapter inPhilosopher's Stone when Harry learns to fly. I remember vividly - the old story we've heard a million times - my daughter fell asleep, it was a beautifully sunny day, I sat in a café, and wrote that chapter from beginning to end. And I think I changed two words. That's very unusual for me (Nr).
Q: Do you have a favorite passage from one of your books?
A: Hard to choose. I like chapter twelve of Sorcerer's Stone (The Mirror of Erised), and I am proud of the ending of Goblet of Fire (Sch2).
Why is the name different in the U.S.?
Q: Does it bother you that in America they changed the names of your books?
A: They changed the first title, but with my consent to be honest. I wish I hadn't agreed now but it was my first book, and I was so grateful that anyone was publishing me I wanted to keep them happy (CR).
awards:
Nestlé Smarties Book Prize 1997 Gold Medal 9-11 years, FCBG Children's Book Award 1997 Overall winner and Longer Novel Category winner, Birmingham Cable Children's Book Award 1997, Young Telegraph Paperback of the Year 1998, British Book Awards 1997 Children's Book of the Year, Sheffield Children's Book Award 1998, Whitaker's Platinum Book Award 2001
UK Edition
1997 Bloomsbury
US Edition
1998 Scholastic
Alternate Title
Harry Potter and the Sorcerer's Stone
Commentary
From the Web
what Rowling says about this book (from Accio Quote)
gallery of cover art from around the world (from SnitchSeeker.com)
chapter by chapter commentary and fan artwork (from The Harry Potter Companion)
Pensieve (Comments)