Information from J.K. Rowling's website, www.jkrowling.com, available from May 2004 through April 2012, plus information on the new version of the site which opened on 20 December 2016.
The information was removed with a complete redesign of the site in April, 2012. In some ways Pottermore was a replacement for this site. However, much information found on this site has never been duplicated on Pottermore. Rowling has used her Twitter account instead of this site to provide some immediate, personal interaction with fans.
On December 20, 2016, much to the surprise and delight of fans, Rowling revealed another overhaul of her site. The design was more in line with the original desktop style, although modernized. The page included answers to fan questions about Fantastic Beasts.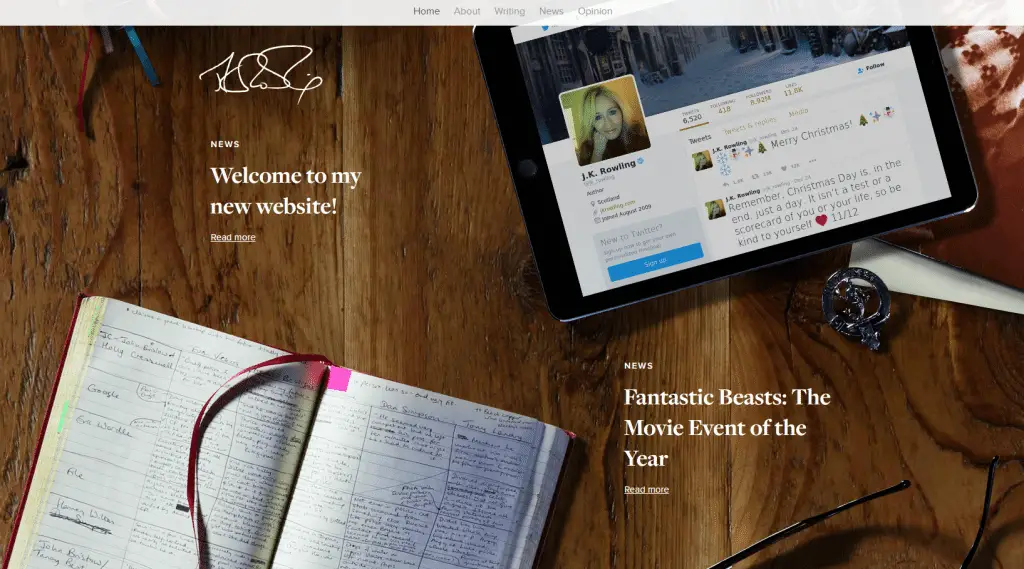 J.K.Rowling – Original Site
The remainder of this page has not been edited for the new site, so many links may be broken or missing. We're working on it. 
Page editor: Belinda Hobbs
---
About the website
JK Rowling surprised fans everywhere on May 15, 2004, by opening a new website. Previously the site had consisted simply of a list of publishers for the Harry Potter books. The new site featured never-before-revealed information, incredible graphics, delightful Flash animations, and a lot of little tricks and surprises. Not surprisingly, the site was filled with the kind of tongue-in-cheek humor and sense of fun which mark everything Rowling creates.
Sadly, the site was removed in 2012 and replaced with a more generic site about Rowling's other writing and work with very little Potter information.
Because the text on her site is written entirely by Rowling, the site is considered to be canon. She did not create the artwork, however, so things like the pictures of the Wizards of the Month aren't canon. The textual information is included in the Lexicon and indicated as being from Jo's site with the abbreviation (JKR).
The site AccioQuote! has a collection of Quotes from Jo's Website.
When we started these pages they were intended to serve only as a basic guide to Jo's website. They have since grown to become a comprehensive resource that we hope you find informative and useful.
We'd like to acknowledge an excellent resource called PottersKeys.com, now sadly defunt, a web site completely devoted to explaining, exploring, and discussing jkrowling.com. They have an extensive archive of detailed images and a public forum.
Here's what the Lexicon's Guide offers:
Site Map of jkrowling.com
Timeline of JKR's website
Tips and tricks for collecting the extras
Special analysis of several of the more interesting aspects of the site-
The main desktop
Extra Stuff: the Bulletin Board
Links: the Bookcase
Rubbish bin
Sounds
Scrapbook contents
Peeves' antics
Day/Night changes
Rumours tabloid ads
Dumbledore's? Watch
Ancient Runes Made Easy
Archives of past content –
Diary entries archive
Past door openings of The Secret Door
the W.O.M.B.A.T. tests
Christmas decorations
Wizard of the Month list
Wizard of the Month images archive
Birthdays
FAQ Polls
List of web resources
---
Site Map:www.jkrowling.com
Splash Screen
Provides choice of language and also the option of viewing the site as text only or the Main site with Accessibility tools enabled.
The Desktop
The main menu for the site. There are links to the following, which appear on top of the desktop:
News – a section where JKR publishes important news announcements
Rumors – a section where JKR addresses recent rumours
Scrapbook – contains the extra "Potterania" content as you collect them from around the site
Wizard of the Month – displays a different witch or wizard each month, also displays birthdays of characters
Biography – an autobiography of author JK Rowling
FAQ – JKR answers many Frequently Asked Questions she receives and offers a poll contest where fans can vote for one of three question options she may answer
Diary – (replaces original Welcome message notepad) a section where JKR can share "everyday updates that don't qualify as real 'news'."
This desktop menu page provides Portkey links to the following separate pages, each of which has links to items which appear on top of their pages:
"?" (the Room of Requirement)(what's behind the Secret Door)
shows a locked door with a "Do not Disturb" sign; this door occasionally opens with new teaser information about the next book
links to various bits of false information which have been published about Rowling
Links (what's on the bookshelves)
provides links to various organizations and companies connected to Rowling
awards a different fan web site every few months
Extra Stuff (what's on the bulletin board)
displays bits of additional information from Rowling's files about the books
allows entry of Student Identification number after taking the WOMBAT exam to retrieve score and certificate
---
Resources on the Web
The following sites contain a variety of information about JKR's website.
Here is an image of JKRowling.com as it first appeared.

Characters Introduced
Alternate Title
JKRowling.com
Canonicity
Secondary Canon
Commentary
Pensieve (Comments)
Tags: website