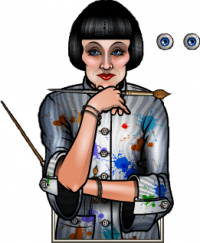 Magenta Comstock was an artist who specialised in painting portraits with magical eyes, which follow viewers both while inside the gallery but also back to their homes (JKR, WoM).
Skills
painting magically enhanced eyes
Commentary
Etymology
Magenta is a color somewhere between pink and purple. Another somewhat creepy fictional bearer is Magenta from The Rocky Horror Picture Show.
Pensieve (Comments)
Tags: artwork eyes JKR.com painting portrait seeing sight WotM