"My own brother, Aberforth, was prosecuted for practicing inappropriate charms on a goat."
-- Albus Dumbledore (GF24)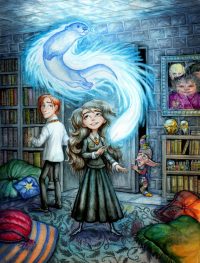 Charms are a type of magic spell concerned with enchanting an object to behave in a way that isn't normal for that object. For example, the Summoning Charm brings an object to the caster. Charms is also something of a catch-all for spells that aren't Transfiguration (spells that change the inherent nature of an object). In some sense, if a spell isn't Transfiguration, it's probably a Charm.
References from the canon
A Charm adds properties to an object or creature, while Transfiguration changes the object or creature into something else (Pm).
Curses, jinxes and hexes are known as Dark Charms, and therefore not included in The Standard Book of Spells 1 by Miranda Goshawk (Pm).
This is not to say that regular Charms are weaker magic; a well-chosen Charm is a powerful magical tool against curses, jinxes, and hexes. Professor Flitwick, the Hogwarts Charms teacher, was rumored to have once been a duelling champion, after all (CS11).
Many of the early charms learned by young wizards can be broken easily, and wear off within hours or days (Pm).
Creatures of a large size such as trolls have thick skin which can repel charms (Pm). This fact probably applies to giants and dragons as well.
A Charm might cause something to flash different colors. It might cause an object to levitate or even fly through the air. Charms can make a person laugh or dance or even create a bubble of breathable air around a person's head. In all of these cases, the object or the person doesn't really change, they just do something unexpected.
Some Charms can be extremely powerful. The Fidelius Charm, for example, can completely hide a person or a place in such a way that no one can find them unless they are given the location by a Secret Keeper (PA10). Memory Charms can be so strong that they completely remove a person's memory or even damage his or her mind permanently (CS16).
.
Charms classes at Hogwarts
First Year:
Hallowe'en: started Wingardium Leviosa
Exam: make a pineapple dance across the desk
Second Year:
During Duelling Club Snape taught the Disarming Charm
Third Year:
Cheering Charms
In private lessons, Lupin taught Harry the Patronus Charm
Fourth Year:
Summoning Charm
Banishing Charm
Fifth Year
Silencing Charms
Create legs on teacups
O.W.L.: Colour Change Charms, Summoning Charms
Sixth Year
Aguamenti
.
Charms Spells

Alohomora Charm
Anti-Cheating Charms
Anti-Gravity Mist
Armour-Bewitching Charm
Atmospheric Charm
Banishing Charm
Bird-Conjuring Charm
Bond of Blood
Braking Charm
Bubble-Head Charm
Caterwauling Charm
Charm To Cure Reluctant Reversers, A
Cheering Charm
Colour Change Charm
Concealment Charm
Confundus Charm
crop-related charms
Cushioning Charm
Defensive Charm
Disarming Charm
Disillusionment Charm
Drought Charm
Engorgement Charm
Fidelius Charm
Fixing Charm
Flame-Freezing Charm
Flashing Paint Charm
Freezing Charm
Gripping Charm
grooming charms
Growth Charm
Hair-Thickening Charm
Hardening Charm
Homorphus Charm
hot air charm
Hover Charm
Imperturbable Charm
Invisibility Charm
knitting charm
Levitation Charm
Locomotion Charms
Memory Charm
Mending Charm
Muggle-Repelling Charm
Obliteration Charm
Patronus Charm
Permanent Sticking Charm
Peskipiksi Pesternomi
Protean Charm
Revealing Charm
Scarpin's Revelaspell

Scouring Charm
Severing Charm
Shield Charm
Shrinking Charm
Silencing Charm
Slug-Vomiting Charm
Softening Charm
Stunning Spell / Stupefying Charm
Substantive Charm
Summoning Charm
Supersensory Charm
Talon-Clipping Charms (dragon care)
Tickling Charm
The Trace
Unbreakable Charm
Unlocking Charm
Wand-Extinguishing Charm
Wand-Lighting Charm
Water-Making Spell
Commentary
Etymology
"to recite or cast a magic spell," from Old French charmer
Notes
When asked which teaching post at Hogwarts she would most like to teach, Rowling responded, "Oh I think definitely Charms - I see that as the most imaginative bit of magic because you're adding properties to an object." (Nr)
From the Web
"Charm" from Harry Potter Wiki
Pensieve (Comments)