"I've only suffered writer's block badly once, and that was during the writing of Chamber of Secrets. I had my first burst of publicity about the first book and it paralysed me. I was scared the second book wouldn't measure up, but I got through it!"
-- J.K. Rowling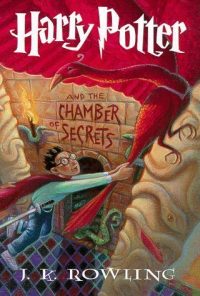 Harry Potter and the Chamber of Secrets is the second book in the series of Harry Potter novels by J.K. Rowling.
First British printing: July 2, 1998 Bloomsbury Books
First American printing: June 2, 1999 Scholastic, Arthur A. Levine Books
U.S. illustrations by Mary GrandPré, 1999
Resources:
word count:
Harry Potter and the Chamber of Secrets – 85,141 words
Official Word Count Provided by Scholastic Inc TM & © 2004-1996. All rights reserved.
Calendar and Dates
The events of the book take place between 31 July 1992 and approximately 19 June 1993, covering Harry's second year at Hogwarts. During this year the school is plagued by dangers small (a wacky Defense Against the Dark Arts professor) and great (a monster loose in the school petrifying students).
Dedication
For Seán P. F. Harris, getaway driver and foul-weather friend.
Seán Harris was a friend of JKR's while she attended school at Wyedean. Seán owned a turquoise Ford Anglia and the two of them would escape in the car to hang out under the bridge by the Wye River, drinking and talking about life. Rowling has said that in many ways the character of Ron Weasley is similar to that of Seán, although she didn't intentionally use him as a model for the character. Obviously the Anglia owned by Mr Weasley has its origins in the old car Seán drove.
Interesting facts and notes
Bloomsbury (Britain) covers
Notes from the title pages:
First published in Great Britain in 1998

Copyright (c) Text J.K. Rowling 1998

Copyright (c) Cover Illustration Cliff Wright 1997

The moral right of the author has been asserted

Cover design by Michelle Radford
---
Scholastic (U.S.) Edition covers
This cover of the US edition, by Mary GrandPré, shows Fawkes flying Harry, Ron, and Ginny (Lockhart is not shown) to safety after the defeat of Riddle in the Chamber of Secrets. This is unusual, since most covers show the flying car.
Characters Introduced
UK Edition
1998 Bloomsbury
US Edition
1999 Scholastic
Alternate Title
Harry Potter and the Half Blood Prince (working title)
Commentary
Tags: diary