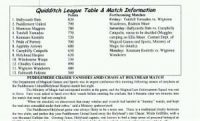 Oct 1st 1999
The Daily Prophet
Price: 7 Knuts
Headlines
Sports
Crossword
Calendar and Dates
Although the date printed on the Daily Prophet Newsletter DP4 is 1 October 1999, the timeframe for these events is 1992-1993.
Memorable lines
'There were wands everywhere,' said Timothy Blenkinsop (23), a Puddlemere supporter who was caught in the midst of the fighting. 'Everywhere I looked people were collapsing. A lot of the Harpy supporters were using the Jelly-Brain jinx. A group of Puddlemere fans near me retaliated with the Sponge-Knees curse. It was shocking. I just ran. I count myself lucky to have escaped just with this tail.'
'It is nonsense to say that Gwenog wanted the Holyhead fans to riot,' said a Holyhead representative after the match. 'Yes, maybe she did say that Wilda deserved to be gnawed to death by starving tarantulas, but that was a light-hearted remark which she certainly did not expect anybody to take seriously. And I'm quite sure that wherever Wilda is, she is not being devoured by spiders.'
'Most of my hag volunteers have refrained from taking a bite out of me since last Tuesday' he said.
'We're not trying to stop people having fun. We're just trying to stop them turning each other into artichokes without checking to see if they know the counter-charm.'
Characters Introduced
Dimensions
1802 words, A4, 4 pages
Publication
1 October 1999
Abbreviation
DP4: Daily Prophet Issue 4
Canonicity
Secondary Canon
Commentary
Tags: answers arrest backfire blame celebrations chaos clues disappear enthusiasm explosions fancy dress fans fun kidnap laws memory protests restriction rights riots shock vanish/vanishing violent Quidditch fans Wizarding laws