"Shortly after this, Fleur decided to imitate Celestina singing 'A Cauldron Full of Hot, Strong Love,' which was taken by everyone, once they had glimpsed Mrs. Weasley's expression, to be the cue to go to bed"
-- during Christmas Eve at the Burrow (HBP16)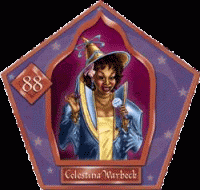 Celestina Warbeck, known as the "Singing Sorceress" (CS3), is, along with the Weird Sisters, one of the two most well-known recording artists in the wizarding world (FW).
Originally from Wales, Celestina's hits include A Cauldron Full Of Hot, Strong Love and You Charmed the Heart Right Out of Me (HBP16, Pm), and she also recorded a version of the Puddlemere United team anthem Beat Back Those Bludgers, Boys, and Chuck That Quaffle Here as a special fundraiser for St. Mungo's (QA7, Pm).
Concerts she has played include Liverpool (DP2) and Exmoor (JKR), and she is known to perform with a group of backup banshees (DP4). Miss Warbeck also sings Christmas Concerts on the WWN, which the Weasley family listens to enthusiastically (more or less) (HBP16). She is extremely popular with wizards and witches of the older generation and her concerts are sell-outs, with tickets going for high prices on the black market. This is why Molly Weasley has never been to hear her favourite singer live.
During Celestina Warbeck's concert in Liverpool, three broomsticks collided over the River Mersey (DP2) on what was the last night of her "Flighty Aphrodite" tour (Pm).
She was disappointed by the Ministry's plans to curtail the celebration of Hallowe'en, as she had planned a large open air concert to promote her new album You Went and Stole my Cauldron but You Can't have My Heart (DP4), which was nevertheless a massive global hit for her (Pm).
Celestina has always had an extraordinary voice and her mother was initially reluctant for her to go to Hogwarts - where Celestina was sorted into Gryffindor. Her mother continued to press the school for choir, theatre and dancing facilities to further develop her daughter's talent (Pm).
Celestina's hobbies include extreme luxury travel, the breeding of Crups and relaxing in one of the eight houses that she owns (Pm).
Family
Her father worked at the Ministry of Magic in the Muggle Liaison Office. Her mother, a Muggle actress, met him when she was attached by a Lethifold (masquerading as a curtain) on stage (Pm).
Celestina has been married three times: first to a dancer, then to her manager - with whom she had a son, her only child - and finally to the composer Irving Warble (Pm).
Skills
Ability to drown out a chorus of banshees, singing, tap-dancing (Pm)
Other canon notes and references
She is first mentioned in CS3, when Harry hears the kitchen radio in the Burrow announce "Witching Hour, with the popular singing sorceress, Celestina Warbeck."
Her name is the answer to the clue "She has a backing group of banshees (9-7)" in the "Fiendishly Difficult Crossword" puzzle published in the Daily Prophet (DP4).
Celestina was also one of the VIP guests attending the 2014 Quidditch World Cup in Argentina (Pm).
Celestina Warbeck
Other Names
The Singing Sorceress
Wand
Larch and phoenix feather, 10 1/ 2 inches long, flexible
School
Hogwarts - Gryffindor
Commentary
Etymology
A celesta is a musical keyboard instrument with keys that are played to make hammers strike metal plates, making a soft tinkling sound (the tinkling, magic-sounding instrument which plays "Hedwig's Theme" in the film soundtracks) (Oxford English Dictionary). The name also derives from the French names Celeste/Celestine and the word celestial, all of which mean "heavenly" (Behind the Name).
To warble is English for "singing in a trilling or quavering voice (as in a bird song)" (Oxford English Dictionary). The only historical Warbeck is Perkin Warbeck (c.1474-1499), who was a pretender to the English throne (Wikipedia).
Notes
Rowling wrote that she always imagined Warbeck looking like singer Shirley Bassey: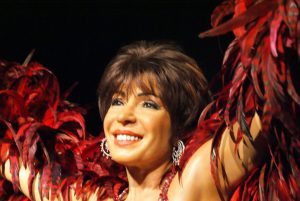 Although the date printed on DP2 is 8 February 1999 and DP4: 1 October 1999, the timeframe for these events is 1992-1993.
Pensieve (Comments)
Tags: concerts famous flashy gossip marriage music musicians popular singing talented wealth