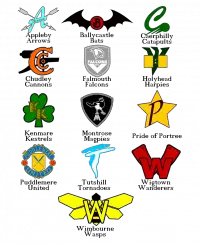 The teams of the British and Irish Quidditch League are discussed in turn.
The thirteen teams in the League are: Appleby Arrows, Ballycastle Bats, Caerphilly Catapults,  Chudley Cannons, Falmouth Falcons, Holyhead Harpies, Kenmare Kestrels, Montrose Magpies, Pride of Portree, Puddlemere United, Tutshill Tornados, Wigtown Wanderers and Wimbourne Wasps.
Interesting facts and notes
Much of the Lexicon's information about the teams of the British and Irish Quidditch League comes from this chapter.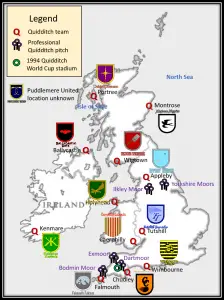 The club supporters' old practice of shooting arrows into the air from their wands every time their Chasers scored was banned by the Department of Magical Games and Sports in 1894, when one of these weapons pierced the referee Nugent Potts through the nose.
That would have been a colourful (albeit dangerous) display by the fans of the Appleby Arrows. Unfortunate for the Referee though.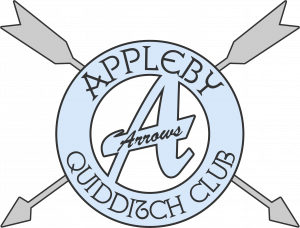 The club motto was changed in 1972 from "We shall conquer" to "Let's all just keep our fingers crossed and hope for the best."
Ah, the Chudley Cannons - they are the team Ron Weasley supports, and are notorious for being at the bottom of the League table.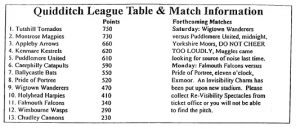 Memorable lines
Captain Rudolf Brand famously dismounted from his broom at the end of the match and proposed marriage to his opposite number, Gwendolyn Morgan, who concussed him with her Cleansweep Five.
Its team anthem "Beat Back Those Bludgers, Boys, and Chuck That Quaffle Here" was recently recorded by the singing sorceress Celestina Warbeck to raise funds for St. Mungo's Hospital for Magical Maladies and Injuries.
The four brothers and three sisters were by all accounts a formidable team who rarely lost a match, partly, it is said, because of the intimidation felt by opposing teams at the sight of Walter standing on the sidelines with a wand in one hand and a meat cleaver in the other.
Characters Introduced
QA
7 — Quidditch Teams of Britain and Ireland
Author
Kennilworthy Whisp (J. K. Rowling)
Publication
March 12, 2001
Abbreviation
QA7: Quidditch Teams of Britain and Ireland
Commentary
From the Web
Writing by J K Rowling on WizardingWorld (Pottermore): The Daily Prophet
Harry Potter Wiki: Quidditch
WizardingWorld (Pottermore) features:
Pensieve (Comments)
Tags: competitions/competitors flying games match pitch secrets teams