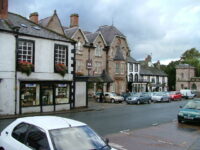 Appleby has been identified as the market town of Appleby-in-Westmorland in Cumbria, in the northeast of England. Since 1612 Appleby has been home to the Appleby Arrows Quidditch team, a member of the British and Irish Quidditch League (QA7).
Commentary
Notes
There are actually several places called "Appleby" in Britain. Before the appellation of Honorary Quidditch Town was given to Appleby-in-Westmorland by Bloomsbury Books, opinion was divided on which of the following four towns was the possible home town of the Appleby Arrows Quidditch team:
Appleby-in-Westmorland was known only as Appleby until 1974 and boasts a castle and church dating from the 12th century. It is also on the scenic Settle-Carlisle Railway line (Appleby Town).
Pensieve (Comments)
Tags: places Quidditch history teams