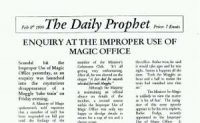 Feb 8th 1999
The Daily Prophet
Price: 7 Knuts
Headlines (Front Page)
ENQUIRY AT THE IMPROPER USE OF MAGIC OFFICE
CELESTINA WARBECK CONCERT CAUSES BROOM SMASH OVER LIVERPOOL
TROLL RIGHTS MOVEMENT OUT OF CONTROL
Editorial reference box to  WHY THE JOKE'S ON THE MINISTRY, NOT THE MUGGLES on page 11
JOBS
FOR SALE
LONELY HEARTS
BIRTHS
DEATHS
Advertisement: Transfiguration Today magazine
Sports
Quidditch League Table & Match Information
The Ballycastle Bats are leading the league with 760 points and the Chudley Cannons are at the bottom of the table with 230 points. Upcoming matches and locations are announced.
Maddock blamed for Kestrels win
Chaos Reigns on Exmoor for Falcons & Pride of Portree
Calendar and Dates
Although the date printed on DP2 is 8 February 1999, the timeframe for these events is 1992-1993.
Interesting facts and notes
The Liverpool concert that the injured Celestina Warbeck fans were rushing to catch was part of her "Flighty Aphrodite" tour (Pm).
Memorable lines
'Alasdair made a simple mistake, which admittedly cost us the match and made us slip to third place in the League. I am quite sure, however, that nothing like this will happen again. He will certainly be unable to kick the Snitch if I turn him into a jellyfish, which is the sort of simple mistake I might allow myself one of these days.' - Cormack McLeod, manager of the Magpies, speaking about Alasdair Maddock, a Chaser who is becoming overly fond of Muggle sports
Deaths: Warlock Demetrius J. Prod
November 27th, very noisily at home after an argument about the washing-up. Sadly missed by wife Elsie.
For Sale: Muggle 'batteries' – collection has grown too large to house, any reasonable offer accepted. Contact A. Weasley, Misuse of Muggle Artifacts Office, Ministry of Magic.
'It was only supposed to be a bit of fun. ....Rufus wanted to see how long it would take the Muggles to notice that one of their trains had gone into a tunnel and not come out again, so we took bets round the office. Rufus won; he said it would take ages and he was right. Seems it happens all the time. Took the Muggles an hour and a half to realize the train had vanished into thin air.'
Characters Introduced
Dimensions
1987 words, A4, 3 pages
Publication
8 February 1999
Abbreviation
DP2: Daily Prophet Issue 2
Canonicity
Secondary Canon
Commentary
Tags: anger arguments balls betting births black blood blue club concerts confusion control death threats deaths disappear dishes draw employment fight jokes league table magazine match mysterious news newspaper obituary peace rights riot sale security sports thrills trains work