"Seeker Aidan Kiely seized his opportunity in the fourth hour of play ..."
-- match report in the Daily Prophet (DP2)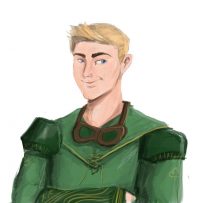 Aidan Kiely played Seeker for the Kenmare Kestrels (c. 1993).
As reported in the Daily Prophet article "Maddock Blamed for Kestrels' Win", Kiely's capture of the Snitch won a game against the Montrose Magpies following a mis-directed kick (of the Snitch) by the controversial Magpies Chaser Alasdair Maddock (DP2).
Aidan Kiely
Profession
Professional Quidditch player (Seeker)
Commentary
Etymology
Aidan is an Anglicised form of the Irish Celtic name Aodhán (Áedán, from Áed, meaning "fire") (Behind the Name).
Kiely derives from Old Gaelic O'Cadhla meaning "male descendant of" plus "graceful or beautiful" (Internet Surname Database). This player's name could also be a reference to Aine Kiely, a friend of J.K. Rowling.
Notes
Related images:
Lexicon timeline of Quidditch
Lexicon list of Seekers
Although the date printed on the second Daily Prophet Newsletter (DP2) is 8 February 1999, the timeframe for this event is 1992-1993.
From the Web
Writing by J K Rowling on WizardingWorld.com (Pottermore): The Daily Prophet
WizardingWorld.com (Pottermore) features:
Harry Potter Wiki: Aidan Kiely
Pensieve (Comments)
Tags: athletes luck match success team teammates victories win