"Crazy young sorceress seeks whacky wizard for weekend fun, Muggle baiting and broomstick races. OWL BOX 4271"
-- Lonely Hearts (DP2)
"Collected works of Gilderoy Lockhart. Will part exchange for large jar of Bertie Bott's Every Flavour Beans. OWL BOX 8487"
-- For Sale (DP2)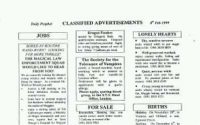 A regular page appearing in the Daily Prophet, of great utility to the wizarding community (DP2).
This section includes columns listing recruitment opportunities, items for sale, dating/Lonely Hearts and family announcements.

Page 2 - Classified Advertisements
JOBS
FOR SALE
LONELY HEARTS
BIRTHS
DEATHS
Advertisement: Transfiguration Today magazine
Commentary
Notes
Someone called "A Weasley" is selling his large collection of batteries - probably at the insistence of his wife, M Weasley....
While the date printed on DP2 is 8 February 1999, the timeframe for these events is 1992-1993.
Pensieve (Comments)
Tags: arguments births careers children communication dating deaths disappear family jobs love Muggle-baiting mystery reason recruitment rewards sale wizarding children