Chudley Cannons manager Ragmar Dorkins collapsed with shock on Saturday after his team succeeded in beating the Falmouth Falcons ...
-- from the sports page of the Daily Prophet (DP4)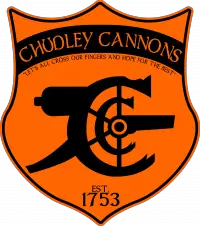 The Chudley Cannons is an English Quidditch team based in Chudley (thought to be the Muggle town of Chudleigh in Devonshire, England).
robes: orange (CS3, QA7, Pm).
home: Chudley
logo: two black Cs and speeding cannonball (CS3, QA7).
club motto: "We shall conquer" (pre-1972), "Let's all just keep our fingers crossed and hope for the best" (after 1972) (QA7).
The Cannons won the league 21 times, the last time being in 1892 (QA7, Pm). They also won they league in 1873 and a "disillusioned" fan is selling the souvenir medal from that game (DP2).
Although they have a well-earned reputation for losing, they did win two games and draw one, after a sixteen game losing streak (their worst season in fifty years). This was documented in a series of articles in the Daily Prophet (DP1, DP2, DP3, DP4). However, Albus Dumbledore, a Puddlemere United fan, doesn't think much of the chance of the Cannons' sustaining any kind of winning record (DH33, QA) and they are often at the bottom-of-the-table.
Team personnel
Ragmar Dorkins, Manager (c. 1990s) during a good season for the Cannons (DP1, DP2, DP3, DP4).
Dragomir Gorgovitch, Chaser – he transferred to the Chudley Cannons for a record fee, but is also the record holder for most Quaffle drops in a season (DH7).
Galvin Gudgeon, Seeker (c. 1990s) who had a few issues (DP1).
Joey Jenkins, Beater – he hits a Bludger toward a Ballycastle Bats Chaser in an illustration in the book Flying With the Cannons (GF22).
Fans
They are Ron Weasley's favorite team (PS6, CS3, Pm)
Barnaby Snell, a Cannons supporter, was interviewed in the Daily Prophet after an unexpected Chudley Cannons win (DP3).
Commentary
Notes
Chudleigh, the Muggle town in Central Devon that is probably "Chudley", does not have any real life sports teams in its Wikipedia listing. However, the entry does include a mention of the Harry Potter connection (Wikipedia).
Although the dates printed on the Daily Prophet Newsletters are:
the timeframe for these events is 1992-1993.
Pensieve (Comments)
Tags: competitions/competitors draw fans flying frustration hope league table losing streak loyalty match orange teams win