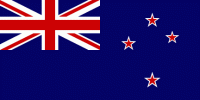 The New Zealand National Teams come from the Antipodean country of New Zealand.
Quidditch
The sport of Quidditch is thought to have been brought into New Zealand in the 1800s by European wizards on herbological discovery expeditions (QA8).
Causing the NZ Ministry of Magic headaches enforcing the International Statute of Secrecy, some Maori art from the time clearly depicts European wizards playing Quidditch (QA8).
Quidditch teams from New Zealand are renowned for the speed of their play and crowd-pleasing showy tactics (QA8).
The New Zealand National Team were participants at the 2014 Quidditch World Cup (Pm).
During their first match, New Zealand's Chaser, Dennis Moon, was sent off in the 106th minute after a collision with his rival Bogomil Levski of Bulgaria.
Only 21 at the time of the 2014 Quidditch World Cup, New Zealand's Seeker Ngapo Ponika was beaten to the Snitch by Viktor Krum (age 38). The final score was Bulgaria 410 – New Zealand 170.
Charlie Baverstock, the team manager, expressed his anger in colourful Antipodean fashion after the defeat (Pm).
Commentary
Notes
A New Zealander will refer to themselves as a Kiwi. The Kiwi is one of the most famous of their native birds (Wikipedia). It is therefore possible that the team mascot for the New Zealand team could be a Kiwi.
Although New Zealand has a long Quidditch history and has participated in Quidditch World Cup matches, there are no wizarding sports listed on its Wikipedia page (Wikipedia).
Pensieve (Comments)