"To the jubilation of a packed crowd of black-clad Bat fans last night, Ballycastle beat League leaders, the Tornados...."
-- match report in the Daily Prophet (DP2)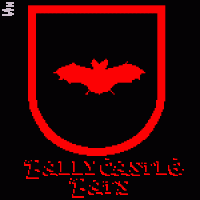 Quidditch team from Ballycastle in Northern Ireland (QA7).
robes: black with scarlet bat on the chest
home: Ballycastle
mascot: Barny the Fruitbat (QA7, Pm)
They are considered to be Northern Ireland's most celebrated team.
The Bats won the Quidditch League twenty-seven times, making it the second most successful team in league history (QA7).
Their fruitbat mascot Barny appears in the advertisements for Butterbeer: Batty says: I'm just batty about Butterbeer! (QA7, Pm).
Fans of the team usually wear black (DP2).
Captain (1990s): Finbar Quigley (DP2).
The Bats beat league leaders, the Tutshill Tornados, following some suspicious Bludger work by team captain Quigley (DP2).
Commentary
Notes
Ballycastle, in County Antrim, Northern Ireland, has hurling and Gaelic football teams listed in its Wikipedia entry, but no Quidditch teams (Wikipedia).
Although the dates printed on the Daily Prophet Newsletters are DP1: 31 July 1998, DP2: 8 February 1999, DP3: 1 June 1999 and DP4: 1 October 1999, the timeframe for those events is 1992-1993.
Pensieve (Comments)
Tags: black competitions/competitors flying league table match red scarlet successful teams