"IT SHOULD HAVE BEEN HAITI"
-- on a t-shirt worn by the Welsh National Team's manager Gwenog Jones (Pm)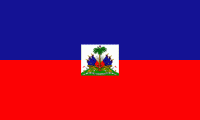 The national teams from the country of Haiti in North America.
Quidditch 
The Haitian National Team were participants in the 2014 Quidditch World Cup in Patagonia, Argentina (Pm).
The team mascots, Inferi, caused havoc during the tournament's opening ceremonies when they tried to capture and devour anyone who had fallen over during the riot (Pm).
Known players on the 2014 team (Pm) were:
Commentary
Notes
Although Haiti fielded a Quidditch World Cup team in 2014, no wizarding sports are listed on their Wikipedia entry (Wikipedia: Haiti).
Pensieve (Comments)
Tags: capture dangerous errors hits international mascots sports teams