DISASTROUS OPENING CEREMONY LEADS TO QUESTIONS ABOUT QUIDDITCH WORLD CUP SECURITY
-- headline, Daily Prophet, 12 April 2014 (QWC)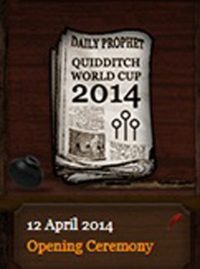 In the article headlined "Disastrous Opening Ceremony Leads to Questions about Quidditch World Cup Security", the Daily Prophet covered the riot and disaster that took place during the Opening Ceremony preceding the 2014 Quidditch World Cup tournament, documenting both the excuses and finger-pointing between Argentinian officials, commentators and the teams involved in the bloodbath (QWC).
Timeline Notes
The Opening Ceremony took place in the Patagonian desert of Argentina on 12 April 2014, the day before the start of the tournament (QWC).
The playoff matches between the 16 qualifying countries of: Brazil, Bulgaria, Chad, Fiji, Germany, Haiti, Ivory Coast, Jamaica, Japan, Liechtenstein, New Zealand, Nigeria, Norway, Poland, United States and Wales were held between 13 April and 9 July 2014, with the final match – between Brazil and Bulgaria – taking place on 11 July (QWC).
Quidditch World Cup 2014 Opening Ceremony
Certainty
Stated in canon
Type of Event
Wizarding world
Commentary
Notes
As Senior Quidditch Correspondent, full coverage of this Opening Ceremony and the subsequent tournament matches was provided for the Daily Prophet by Ginny Weasley. Extra colour (ie. gossip) commentary by Rita Skeeter was added to Ginny's coverage for the Brazil-Bulgaria final (Pm).
From the Web
Writing by J K Rowling on WizardingWorld.com (Pottermore): The Daily Prophet
Screenshots of the Daily Prophet coverage of the 2014 Quidditch World Cup (originally from Pottermore), written by J.K. Rowling, and saved on Imgur:
Harry Potter Wiki: 2014 Quidditch World Cup
Pensieve (Comments)
Tags: animals attacks bites creature-induced injuries crowds disasters injuries lake Quidditch history tournaments water