And the Billywig forgot to twirl,
When his sweetheart left him cold.
-- Jazz Singer in the Blind Pig (WFT)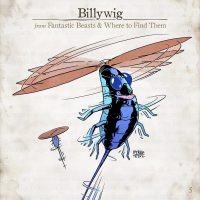 A magical insect, native to Australia about a half-inch long and vivid blue in color, with a large stinger that causes levitation and laughter in victims (FB).
Dried Billywig stings are used in several potions and are allegedly a component in Fizzing Whizzbees (FB). They are part of the Wideye (Awakening) Potion (Pm). Zygmunt Budge used them to make Laughing Potion (BoP).
Commentary
Pensieve (Comments)