"I've just completed a year in the field. I'm writing a book about magical creatures ... A guide to help people understand why we should be protecting these creatures instead of killing them."
-- Newt Scamander to Tina Goldstein (WFT)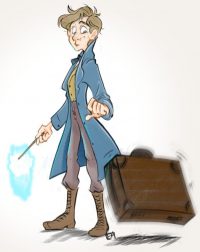 Newton "Newt" Scamander is a famous magizoologist and author of Fantastic Beasts and Where To Find Them (PS5) as well as a number of other books.
Now retired, Scamander lives in Dorset with his wife Porpentina (FB). He received the Order of Merlin, second class in 1979, and is also featured on a Chocolate Frog card.
Scamander attended Hogwarts from 1908 to 1915, where he was a member of Hufflepuff house. He was expelled -- or nearly expelled -- from Hogwarts for the endangerment of human life by a beast. Albus Dumbledore strongly argued against his expulsion (WFT). He began his career in the Department for the Regulation and Control of Magical Creatures, working in the Office of House Elf Relocation from 1915-1917 (FB).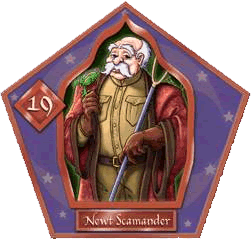 In 1917, he moved to the Beast Division, where he worked until his retirement. During his time in the department, he made a number of notable achievements, including creating the Werewolf Register in 1947 and writing the Ban on Experimental Breeding in 1965. He has also worked with the Dragon Research and Restraint Bureau.
In 1918 he was commissioned by Augustus Worme of Obscurus Books to write a book about magical creatures. The first edition of Fantastic Beasts and Where to Find Them was published in 1927; the book is now in its 52nd edition.
In 1926 he traveled to America to set free a Thunderbird he had rescued from illegal traffickers. There he met his future wife Porpentina Goldenstein, a MACUSA Auror. He also had to track some of the animals that escaped from his case. He helped to expose and capture Gellert Grindelwald, who was disguised as Auror Percival Graves.
Family
Mother: A woman who bred Hippogriffs.
Siblings: at least one brother, Theseus Scamander.
Spouse: Porpentina Scamander, née Goldstein.
Children: Newt and Tina have at least one son.
Grandchildren: At least one grandson, Rolf Scamander, who married Luna Lovegood. They have twin sons, Lorcan and Lysander.
Skills
Expert knowledge of magical creatures, with an intensely protective attitude toward them.
Newton Artemis Fido Scamander
School
Hogwarts - Hufflepuff
Commentary
Etymology
Newt = small lizard-like amphibian similar to a salamander
Artemis = Greek mythology: goddess of hunting
Fido = generic name for a pet dog, from Latin fido = "faithful"
Scamander = sounds like "salamander"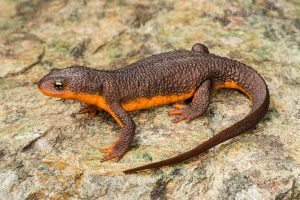 Notes
According to promotional material for the film:
NAME: Newton Fido Artemis Scamander
AGE: 29
RESIDENCE: England, United Kingdom
APPEARANCE: Hair: dark; Eyes: green/blue; Built: Tall and slim.
OFFENSE: Illegal possession of a magical beast causing endangerment of human life and violation of Animal Welfare Laws 101/304.
DATE: 1913
LOCATION: Hogwarts School of Witchcraft and Wizardry, United Kingdom
LEVEL: 3
WITNESSES: Multiple
NOTES: Proposed expulsion from Hogwarts School of Witchcraft and Wizardry due to the illegal possession of a magical beast causing endangerment of human life and violation of animal welfare laws 101/304.
Magical Beast: Jarvey, Level 3
Punishment: Expulsion from Hogwarts School of Witchcraft and Wizardry.
– The expulsion was never enforced – Hogwarts Professor Albus Dumbledore defended Newton resulting in his name being cleared.
* The Ministry of Magic Animal Welfare Department were also informed of the violation and were required to rehouse the magical creature.
This material is included in several companion books written by Micheal Kogge. According to emails from  the author:
For the Fantastic Beasts books, I didn't make anything up myself and stuck to the materials I was given. As you know, filmmaking demands changes to the very end, so it's very possible bits and bobs trimmed from the film made it into the books. I couldn't tell you which ones honestly as I'm so close to the material. I do know that the artwork in the back was produced for the film (labels, signs, etc) and Scholastic and WB heavily vetted the book (personal email 4 January 2017).

My books were based on the screenplay and production stills. Again, film editing might have trimmed some bits and perhaps some things were added and changed in post from the script I read, but I wouldn't know what exactly was done (personal email 5 January 2017).
After the first film, fan speculation ran high about whether Newt was acting as an agent for Dumbledore all along, tracking down a possible Obscurial knowing that Grindelwald would also be looking for it. The two did seem surprisingly familiar after Grindelwald was arrested.
About his coat:
"I'd say it's a dark peacock blue. Or technically, in fashion, we'd call it petrol. I knew from the script that Newt is true to the sky and the earth and land, and that's what I depicted in the colours of his costume."
-- Fantastic Beasts Costume designer Colleen Atwood discussing Newt's distinctive coat in the film (Pm)
Pensieve (Comments)
Tags: animals authors curious discoveries innovation Ministry staff nature obsession protection protective research researchers