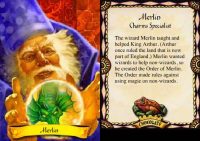 The Order of Merlin is an honorific given to witches and wizards for their service to the wizarding community. Although we now think of the Order of Merlin as an award, it was originally conceived by Merlin himself as an organisation which made rules against using magic on Muggles (DL, FW).
Classes
The Order of Merlin is awarded in one of three levels (DL):
First Class is the most prestigious – given for "for acts of outstanding bravery or distinction", and carries a green ribbon.
The Second Class has a purple ribbon and is awarded for "achievement or endeavour beyond the ordinary".
Third Class is for those "have made a contribution to our store of knowledge or entertainment" and is a white ribbon.
Holders
Arcturus Black (OP6, DH10, DL)
Albus Dumbledore (PS4, OP5, TBB)
Gilderoy Lockhart (CS6, CS13, WW)
Tilly Toke (FW)
Commentary
From the Web
Writing by J K Rowling on WizardingWorld (Pottermore):
Writing by J K Rowling:
Harry Potter Wiki:
Pensieve (Comments)