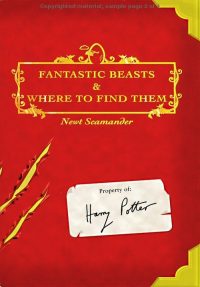 Fantastic Beasts and Where to Find Them is a Muggle version of the venerable guide to magical creatures, which is known all through the Wizarding world. Fantastic Beasts is used as a textbook at Hogwarts, and this edition has marks and scribbles throughout purportedly from Harry and his friends.
Details
Published: March 12, 2001

Published by Obscurus Books, 18a Diagon Alley, London
In association with Bloomsbury (UK edition)
In association with Arthur A. Levine Books/Scholastic Press (US edition)
42 pages plus 22 pages of introductions and a special foreword by Albus Dumbledore
Illustrated by J. K. Rowling
Update
The book was updated in 2017 to coincide with the release of the film. The new edition included a new foreword from J. K. Rowling (writing as Newt Scamander) and 6 new beasts drawn from her writings on Pottermore (MNA).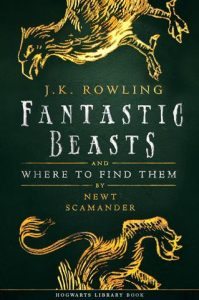 Interesting facts and notes
Rowling wrote this book along with Quidditch Through the Ages for charity. All proceeds will be donated to Comic Relief. Click on the book cover to the right to order these two books through Amazon.com. The book is designed to look like a Hogwarts textbook. It has slash marks on it as if some fierce creature has taken a swipe at the book with its claws. There is a sticker on the front with the words "Property of:" followed by Harry Potter's signature.
The book is mentioned in PS5 as one of the textbooks Harry is required to purchase for Hogwarts.
There are scribbled notes in the book, scrawled there by Harry and his friends. On the inside front cover is a bookplate: This book belongs to:" followed by Harry's signature again. Underneath that is written the following exchange:
"shared by Ron Weasley because his fell apart"
"why don't you buy a new one then?"
"write on your own book Hermione"
"you bought all those dungbombs on Saturday.you should have bought a new book instead."
"Dungbombs rule"
On the title page is a game of hangman between Harry and Ron, who has lost the game. The word, which he didn't get, was ACROMANTULA. Next to the little stick figure is a drawing of a spider with the words "you die Weasley." There is also a game of tic-tac-toe and the words "Harry loves Moaning Myrtle."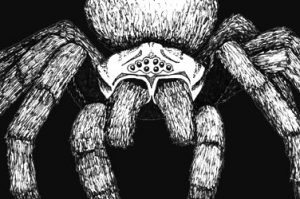 On the index page is written: "CHUDLEY CANNONS" under which is written "write a decent team in my book for a change Weasley"
Characters Introduced
Author
Newt Scamander (J.K. Rowling)
Publication
March 12, 2001
Abbreviation
Fantastic Beasts and Where to Find Them (book)
Canonicity
Secondary Canon
Commentary