"Many a Muggle child has been accused of vandalism when an offended Knarl was the real culprit."
-- Newt Scamander (FB)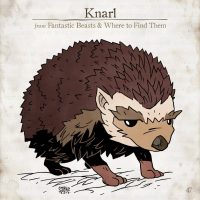 A knarl is very similar to a hedgehog, except for behavioral differences:  the distrustful knarl takes offense if food is left out, and will take revenge by wreaking havoc on garden plants and ornaments (FB).
Part of the O.W.L. test in Care of Magical Creatures involved knowing how to distinguish between a Knarl and a hedgeghog (OP31).
Knarl quills are used in the Laughing Potion (BoP).
Commentary
From the Web
"Knarl" from Harry Potter Wiki
Pensieve (Comments)