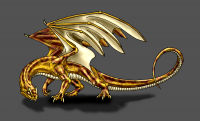 Peruvian Vipertooth dragons are particularly dangerous. They are very fast flyers, they are very venomous, and humans are their preferred food. By the end of the 1800s, the Vipertooths had become such a problem that the International Confederation of Wizards sends a team of exterminators to Peru to reduce the number.
Timeline Notes
According to Fantastic Beasts and Where to Find Them:
the Vipertooth will feed readily on goats and cows, but has such a liking for humans that the International Confederation of Wizards was forced to send in exterminators in the late nineteenth century to reduce Vipertooth numbers, which had been increasing with alarming rapidity (FB).
We'll place the year for this to happen as 1880, just arbitrarily. The actual date could be anything between 1870 and 1900.
Team sent to reduce the herd of Vipertooths
Certainty
Stated in canon
Type of Event
Wizarding world
Commentary