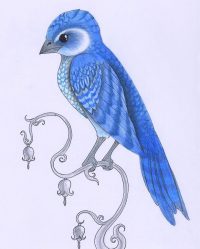 "The Jobberknoll is a tiny blue speckled bird which eats small insects," writes Newt Scamander in the book Fantastic Beasts And Where To Find Them. The Jobberknoll is native to northern Europe and the Americas.
The bird lets out no noise whatsoever until it's death, when it releases a long, high pitched screech made up of every sound it's ever heard (FB).
Commentary
Notes
"Jobbernowl" means a stupid person (NSOED).
Pensieve (Comments)