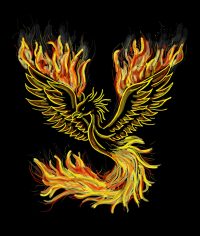 The Hoo-hoo (pronounced HO-oh) is a Japanese firebird, a type of phoenix.
The Hoo-hoo is the Quidditch team mascot of the Japanese National Team (QWC).
Following their 3rd place playoff win at the 2014 Quidditch World Cup tournament, the Japanese team gave a Hoo-hoo chick to their opponents, the team representing the United States  (QWC).
Commentary
Etymology
Fenghuang, the Chinese word for phoenix, is pronounced "hō-ō" in Japanese (Wikipedia).
Notes
There is also a phoenix-like character in the Pokemon anime game universe called a "Ho-Oh" (Pokemon Wikia).
Pensieve (Comments)