QUIDDITCH WORLD CUP FINAL
-- headline, Evening Prophet, 11 July 2014 (QWC)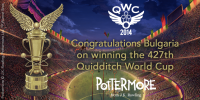 The Quidditch World Cup 2014 final game of the tournament took place between the national teams of Brazil and Bulgaria on 11 July 2014. This extremely exciting and emotional match ended when veteran Bulgarian Seeker Viktor Krum caught the Snitch, ensuring that Bulgaria won by 160 points to 70 (QWC).
Timeline Notes
Full minute-by-minute coverage was provided on behalf of the Daily Prophet by Ginny Weasley, with the addition of extra "colour" commentary from Rita Skeeter (QWC).
Quidditch World Cup 2014 Final (Brazil v Bulgaria)
Certainty
Stated in canon
Type of Event
Wizarding world
Commentary
Notes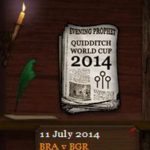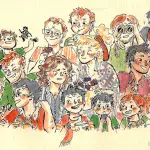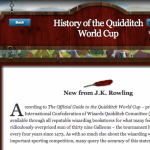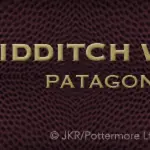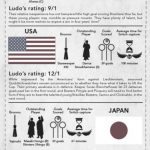 When the 2014 Quidditch World Cup final match report was published on the original Pottermore, the graphic image indicated that it was an edition of the Evening Prophet.
The 2014 tournament was released on a daily basis. It was very exciting for fans to be able to read the match reports as if they were receiving wizarding newspapers delivered in "real time".
Lexicon timeline of Quidditch
Lexicon list of World Quidditch teams
From the Web
Writing by J K Rowling on WizardingWorld.com (Pottermore): The Daily Prophet
Writing by J K Rowling on Imgur (Daily Prophet coverage of the 2014 Quidditch World Cup, originally from Pottermore):
Harry Potter Wiki: 2014 Quidditch World Cup
Pensieve (Comments)
Tags: competitions/competitors emotions excitement green international match popular Quidditch history red scarlet skills talented teams tournaments