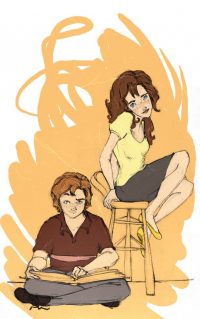 The younger of Ron and Hermione's two children, brother to Rose. Hugo seems to be good friends with Lily Potter (DH/e).
Family
Mother: Hermione Granger
Father: Ron Weasley
Siblings: Rose Weasley
Commentary
Notes
In the epilogue to Harry Potter and the Deathly Hallows which takes place September of 2017, Hugo was not yet old enough to attend Hogwarts, but instead hangs out laughing with Lily on Platform 9 ¾ while his older sister, Rose, prepares to depart for her first year at Hogwarts. Though we don't know his exact age, Lily Potter was nine at the time, and it's likely the two of them were within a year or so of each other's age. This would place Hugo's birth roughly between 2006 and 2009, and his first year at Hogwarts at circa 2019 (DH/e).
Pensieve (Comments)