"That's nothing, Rose is worried whether she'll break the Quidditch scoring record in her first or second year. And how early she can take her O.W.Ls."
-- Hermione about her daughter's ambitions (CC1.2)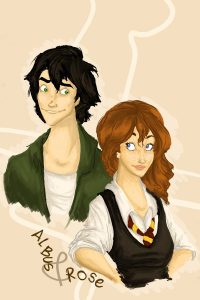 Rose is the older of Ron and Hermione's two children, and their only daughter.
On 1 September 2017, Rose was preparing to take the Hogwarts Express to her first year at school, and was nervous about whether she'd be sorted into Gryffindor (DH/e). Hermione feels that Rose is at that point already thinking about her academic achievement and excelling at Quidditch (CC1.2).
On the train, Rose wants to methodically choose who she and her cousin Albus Potter will sit with - as friendships are going to be so important to their lives at school, but leaves him after he chooses to stay in Scorpius Malfoy's compartment (CC1.3).
Having demonstrated immediate control over her broom during their initial first year Quidditch lesson, Rose is announced as "your superb new Chaser" for the Gryffindor Quidditch Team during her second year by Headteacher Minerva McGonagall (CC1.4).
Family
Mother: Hermione Granger
Father: Ron Weasley
Siblings: Hugo Weasley
Skills
Brainy, talented Chaser
Other canon notes and references
She is described by Rita Skeeter as having inherited her father's "unfortunate" hair (Pm).
Rose Weasley
School
Hogwarts - Gryffindor
Commentary