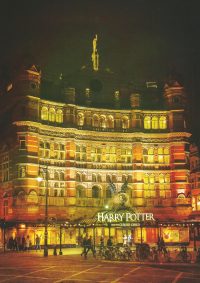 Harry Potter and the Cursed Child is a play written by John Tiffany and Jack Thorne with the blessing and support of J.K. Rowling (July 2016).
In the play, Harry and Ginny's son Albus goes to Hogwarts and befriends Scorpius Malfoy, Draco's son. Albus and Scorpius steal a Time-Turner and alter time. They are encouraged in this by a mysterious young woman named Delphi who turns out to be masterminding the rise of Dark Magic once again.
The play is made up of two separate performances, either one as a matinee and the other in the evening or on two consecutive days.
Author
J.K. Rowling, John Tiffany, and Jack Thorne
Abbreviation
Harry Potter and the Cursed Child
Canonicity
Varying Levels
Commentary
From the Web
Pensieve (Comments)
Tags: family family issues son