"Do you still see with my eyes, Harry Potter?"
-- the dream Lord Voldemort (CC3.12)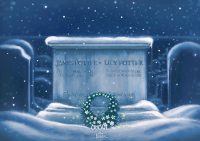 Harry Potter has a dream about visiting Godric's Hollow with his Aunt Petunia, who tries to explain away the flowers for Lily and James. He again hears the voice of Lord Voldemort and sees his son Albus (CC3.12).
As he talks about his dream with wife Ginny, Harry realises his dream means that Lord Voldemort is still active and they are in danger (CC3.13).
Timeline Notes
The night of the previous event - likely early October 2020
Harry Potter has a nightmare about Godric's Hollow
Certainty
Reasonable guess
Type of Event
Wizarding world
Commentary
Notes
This event takes place in the Repaired timeline, as described in the essay "Albus Potter and the lesson in Quantum Mechanics" by Nick Moline.
Similar to what she told him when he lived with the Dursleys, Harry's Aunt Petunia denies that there was anything good about her sister Lily and Harry's father James:
"she repelled people.... and your father…. extraordinarily obnoxious. No friends. Neither of them." (CC3.12).
Harry states that he had never visited Godric's Hollow with his Aunt Petunia (CC3.13). He had talked about it before Bill and Fleur's wedding:
"I thought I might go back to Godric's Hollow.... For me, it started there, all of it. I've just got a feeling I need to go there. And I can visit my parents' graves, I'd like that." (HBP30).
When he does go there with Hermione he remembers that "he had been little over a year old when he had left this place forever" (DH16). Therefore the dream he has of going there as a small boy is false - and Harry knows it must mean something else.
Pensieve (Comments)
Tags: danger dreams evil fear guilt love nightmares shame warnings wizarding children