"I know you're a good man. Harry Potter told his son you're a great man."
-- Scorpius Malfoy to Severus Snape (CC3.5)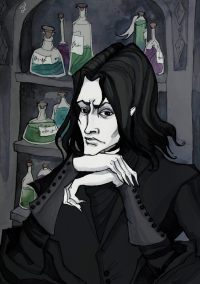 Realising that Severus Snape is alive in this timeline, Scorpius Malfoy rushes to Snape's office in the dungeons. Scorpius tries to tell him what life is like in a world where Harry Potter won the Battle of Hogwarts. He also finds out the reason for all the changes: Neville Longbottom never destroyed Nagini.  This is because he was killed by Cedric Diggory, who had become a Death Eater: "We destroyed Cedric, he killed Neville, Voldemort won the battle" (CC3.5).
Scorpius manages to convince Snape he is telling the truth when he speaks about Snape's hidden love for Lily Potter (CC3.5).
Timeline Notes
Right after the previous event, the same day, around early October 2020
Scorpius Malfoy tells Severus Snape about another world
Certainty
Reasonable guess
Type of Event
Wizarding world
Commentary
Notes
This event takes place during the Scorpion King timeline, as described in the essay "Albus Potter and the lesson in Quantum Mechanics" by Nick Moline.
One of the things that helps makes up Snape's mind to aid Scorpius is telling Snape that that his best friend at the "other" Hogwarts, the son of Harry Potter, is named Albus Severus Potter - because of Snape's bravery (CC3.5).
Pensieve (Comments)
Tags: changes death life love time travel transformation unrequited love