In — the other world — they called you the Augurey.
-- Scorpius Malfoy, to Delphi (CC3)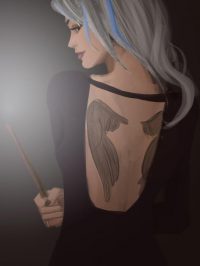 Steve and Nick continue their discussion of Cursed Child, so here is your spoiler warning (which we didn't quite get to mentioning until we had already been talking about cursed child quite a bit), don't listen to this episode if you haven't read or seen Harry Potter and the Cursed Child yet unless you don't mind spoilers.
We managed to mostly avoid the Time Travel rabbit hole, but we did come up with an interesting theory about Divination based on what we know about Delphi.  We also spend some time discussing the way other characters are represented in Cursed Child.
In addition to talking about Cursed Child, we also spend some time going over all the new canon from Pottermore, the Pottermore Presents e-books, the MACUSA article, and the Patronus quiz.
We also talk a bit about upcoming enhancements to the Lexicon website, and we talk a little about how you can support the Lexicon.
Stay tuned for Episode 22, where we plan on focusing our conversation on the character of Draco Malfoy.
Podcast: Play in new window | Download (Duration: 1:09:05 — 63.2MB)
Subscribe: Google Podcasts | Stitcher | RSS
Commentary