"The Inner Eye can be a burden, you know..."

— Sybill Trelawney (PA16)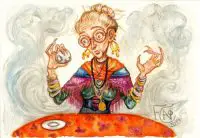 A Seer is a witch or wizard with the Inner Eye, that is, the ability to see into the future.
Cassandra Trelawney was a famous, talented Seer (FW).
Her great-great-granddaughter Sybill Trelawney also possesses the Inner Eye, but she has only truly used it on two occasions (PA22).
Commentary
Pensieve (Comments)