'Are they doctors?' he asked Ron quietly.
'Doctors?' said Ron, looking startled. Those Muggle nutters that cut people up? Nah, they're Healers.'
(OP22)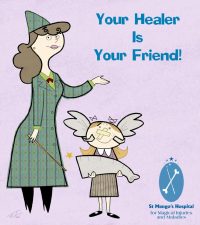 Healers are the doctors of the Wizarding world (OP23, 30, TBB/FFF).  At St. Mungo's, they wear lime green robes with an image of a crossed bone and wand (OP29).  To become a Healer, students must achieve a N.E.W.T. of at least an E in Herbology, Transfiguration, Potions, Charms, and D.A.D.A. (OP29).
Notable Healers include:
Commentary
Tags: careers healing medicine/medical