High on a hill in an enchanted garden, enclosed by tall walls and protected by strong magic, flowed the Fountain of Fair Fortune.
-- opening lines of "The Fountain of Fair Fortune"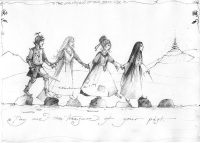 Three witches and a hapless knight are on a quest to find the Fountain of Fair Fortune in its enchanted garden. Once a year, one unfortunate person is given the chance to find the Fountain and bathe in it, thereby gaining good fortune forever. The four travelers decide to help each other on through the garden and discover along the way that in doing so they help each one overcome their unfortunate circumstances. They leave the garden happily together.
Interesting facts and notes
Jo's comments about the story:
'"Fountain of Fair Fortune" is my favorite one, and that's really about the qualities you need to achieve your heart's desire, and the moral being that magic ultimately is not the best weapon.'  (PC/JKR1)
Characters Introduced
Publication
December 13, 2007
Abbreviation
TBB/FFF: Fountain of Fair Fortune
Commentary
Pensieve (Comments)
Tags: anger darkness flower fruit garden happiness old pain proof protection screaming treasure