"How many will be brave enough to return when they feel [the Dark Mark on their arms turn black]? And how many will be foolish enough to stay away?"
-- Lord Voldemort (GF33)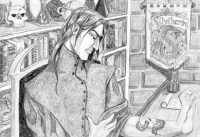 The Death Eaters are those wizards who follow Voldemort. There seems to be a fairly small number of them, although those who Apparate to Voldemort's side when the Dark Mark on their arms summons them may be the inner circle of his strongest supporters only. Some of the Death Eaters have children at Hogwarts.
Full list of known Death Eaters
Voldemort formed the Death Eaters sometime between 1946 and 1965 (HBP20). Originally, they bore the name 'the Knights of Walpurgis' (see Commentary below). The term "Death Eater" is never explained, except that Voldemort sought immortality because he feared death. As he told Dumbledore during the Battle for the Department of Mysteries: "There is nothing worse than death, Dumbledore!" (OP36). Voldemort called the Death Eaters his "true family" (GF33). But he ruled his "family" with fear of punishment and demanded complete loyalty or they or their loved ones would be killed (HBP24, DH10). Voldemort never understood that bonds of blood or love could be stronger than fear. Regulus Black had saved newspaper cuttings in a sort of shrine to Voldemort in his bedroom, and was encouraged by the Black family to join up, but the fact that Voldemort left the family house-elf Kreacher to die in the sea cave made him want to defeat the Dark Lord (DH10). Severus Snape turned to Dumbledore for help when he realized that Voldemort was threatening to kill the love of his life, Lily Evans Potter, and became a double spy to keep Harry alive (DH33).
Except for a few early followers who knew him at Hogwarts, most of the Death Eaters knew little about Voldemort and what he was planning. Bellatrix Lestrange told Snape that the Dark Lord confided in her (HBP2), but she seemed to have no idea that Voldemort was a Half-Blood with a Muggle father until Harry told her (OP35). Lucius Malfoy had no idea that the Diary of Tom Riddle was a Horcrux when he passed it to Ginny Weasley, only that it could be used to open the Chamber of Secrets (HBP23). Voldemort was furious when he found out that part of his soul had been destroyed, and more importantly, that Lucius had not waited for his permission to use it. Regulus Black was the only Death Eater who ever understood that the Dark Lord had created a Horcrux, although he did not live to destroy it.
Some of the Death Eaters were unknown to the others. For instance, Snape never knew that Peter Pettigrew was passing information to Voldemort. Igor Karkaroff knew of Snape and some others, but said during his trial that only Voldemort knew the identities of all his followers: "- we never knew the names of every one of our fellows – He alone knew exactly who we all were -" (GF30).
The Death Eaters wore hoods with slits for masks, although sometimes they would take them off as Lucius Malfoy did at the Department of Mysteries (OP35). They each were given a Dark Mark sign on their forearms. The Dark Mark is a type of Protean Charm. Voldemort could touch the Dark Mark on the arm of any follower to summon the others, as he did with Peter Pettigrew in the graveyard (GF33).
While it may seem as if every Death Eater and their children were in Slytherin House, there are "people connected to the Death Eaters in other houses" (TLC3).
Each Death Eater believed he or she would receive some type of future "reward" from Lord Voldemort, yet most of that never materialized — or not in the form they expected. Peter Pettigrew cut off his own hand and received a new silver one, but it was still under Voldemort's control, and ended up strangling him when he had a impulse of mercy towards Harry (GF33,DH23). By the time Voldemort moved into Malfoy Manor during the Second War, the reward to the Death Eaters was that they could watch someone else being fed to the snake Nagini instead of themselves (DH1).
Deaths, disappearances and injuries
Deaths known to be caused by the Death Eaters (rest their souls)
Deaths suspected to be caused by Death Eaters
Permanent injuries known to be caused by Death Eaters
Non-permanent injuries caused by Death Eaters
Disappearances possibly caused by Death Eaters
Commentary
Etymology
The name possibly indicts Death Eaters for their wickedness by alluding to Adam and Eve eating of the fruit of the tree of knowledge of good and evil; "eating Death" is how this moment is described in Milton's Paradise Lost, for example (source: Paradise Lost).
Notes
JKR made this comment during the Jeremy Paxman Interview in 2003 on the BBC while looking at some of her notes on the books:
"...here is the history of the Death Eaters and I don't know that I'll ever actually need it -- but at some point -- which were once called something different -- they were called the Knights of Walpurgis. I don't know if I'll need it. But I like knowing it. I like to keep that sort of stuff on hand."
This is a play on "Walpurgis Night" -- April 30th, named for Saint Walpurga (whose feast day is the next day, 1 May, and who is the protectress against witchcraft and sorcery). On Walpurgis Night, witches are supposed to meet in the Harz mountains, especially near the highest point. Incidentally, Walpurgis Night stands opposite the calendar from Hallowe'en. -- MLW
Added note: "Saint Walpurga" sounds like the name of Sirius Black's mother "Walburga" (BFT). And there's a good reason: it's just a variation of the same name.
From the Web
Pensieve (Comments)
Tags: Bellatrix Remembrall dangerous death death threats groups killing killing/killings prejudice punishment servant Snape Remembrall torture