"Yes, the last and worst. Avada Kedavra. ...the Killing Curse."
-- Fake Mad Eye Moody, teaching Defense Against the Dark Arts (GF14)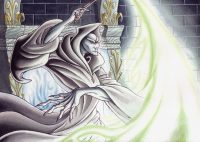 Causes instant death in a flash of green light, usually leaving no sign of physical damage or of the cause of death that would be detectable to a Muggle autopsy.
History and Notes
The Elder Wand is associated with killing, but using the Killing Curse is not the only way to become Master of the Wand.  Grindelwald stole the wand from Gregorovitch. Dumbledore overcame Grindelwald by duelling without killing him, and Harry merely wrestled Draco's wand away to convince the Elder Wand he was a superior wizard.
References from the canon
Killing Curse
Incantation
Avada Kedavra
Pronunciation
uh-VAH-duh kuh-DAH-vruh
Commentary
Etymology
Aramaic: "adhadda kedhabhra" - "let the thing be destroyed".
Notes
NOTE: Abracadabra is a cabbalistic charm in Judaic mythology that is supposed to bring healing powers. One of its sources is believed to be from Aramaic avada kedavra, another is the Phoenician alphabet (a-bra-ca-dabra).
Pensieve (Comments)