"It's magnificent."
--Albus Severus Potter (CC4.3)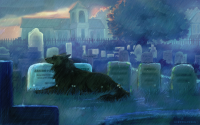 A church in Godric's Hollow. It is small, but "magnificent", and it's graveyard is purportedly very haunted (DH16, CC4.3). It provides a good view of Godric's Hollow from multiple directions (CC4.8). The sanctuary has both clear windows that one can easily see through (CC4.9) and stained glass windows (DH16), as well as a rose window (CC4.10).
People were singing Christmas carols inside the church when Harry and Hermione arrived in Godric's Hollow on the night of Christmas Eve 1997. After a while, the service ended, the churchgoers left, and the lights were turned off (DH16).
This church is where Harry and his friends wait for Delphi to arrive in Godric's Hollow in 1981. After being transfigured to resemble Voldemort, Harry lures Delphi into the church. There is a fight, and Delphi is defeated (CC4.11).
It is suggested that St. Jerome's is the only church in Godric's Hollow, at least in 1981 (CC4.3).
Commentary
Notes
St. Jerome was a Doctor of the Church who thought and wrote about how women could live lives devoted to Christ (Wikipedia). Note the almost religious fervor with which Delphi devotes herself to Voldemort. -BB
St. Jerome's is most likely an Anglican church. -BB
The Latin for Jerome is Hieronymus, meaning "Holy Name". Pope Damasus (later also a Saint) commissioned the future St Jerome to translate the whole Bible into Latin (Catholicism: Saint Jerome).
From the Web
The tiny rural village of Llangwm (Monmouthshire, South-East Wales) has a Saint Jerome's Church, which does have a suitably large tower (CC4.8), but no corresponding village containing thatched roofed cottages or a farmer's market as described by Hermione and Draco (CC4.7). There are a few other towns and villages with a St Jerome's in the UK, but none of these fit the description of the one in Godric's Hollow either.
Pensieve (Comments)
Tags: Christianity Christmas Christmas carols Christmas decorations holidays music religion