"I offered it to Dumbledore for Headquarters — about the only useful thing I've been able to do." - Sirius Black (OP5)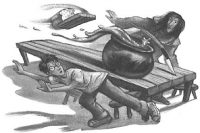 Harry learns of Sirius Black's family background, and Molly and Sirius have a row regarding what is best for Harry.
Calendar and Dates
The entire chapter takes place the evening of August 6. See OP3 for details.
Interesting facts and notes
Lupin apparently drinks from a silver goblet
goblins

Family of them killed by Voldemort near Nottingham
Ragnok - head goblin?
Exceptional character moments
Still to come....
Memorable lines
"Don't know what you're complaining about, myself. Personally, I'd have welcomed a dementor attack. A deadly struggle for my soul would have broken the monotony nicely."
"Do that one like a pig snout, Tonks..."
Tonks obliged, and Harry, looking up, had the fleeting impression that a female Dudley was grinning at him from across the table.
Words and phrases
Characters Introduced
OP
5 — The Order of the Phoenix
Abbreviation
OP5: The Order of the Phoenix
Commentary
Pensieve (Comments)
Tags: arguments bitter dark family fight fire laughing light portrait school screaming silence silver son stone useful young