"Right - got everything? Cauldron? Broom? Wow! - A Firebolt? And I'm still riding a Comet Two Sixty. Ah well… wand still in your jeans? Both buttocks still on? OK, let's go. Locomotor trunk."
-- Nymphadora Tonks, preparing to leave for Grimmauld Place (OP3)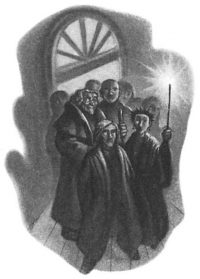 The Dursleys depart for what they believe to be the prize-giving of the All-England Best Kept Suburban Lawn Competition.
The Advance Guard — "Mad-Eye" Moody, Remus Lupin, Nymphadora Tonks, Kingsley Shacklebolt, Elphias Doge, Dedalus Diggle, Emmeline Vance, Sturgis Podmore, and Hestia Jones — arrive at number four, Privet Drive to escort Harry to number twelve, Grimmauld Place (OP3). Once there, Harry learns about the Order of the Phoenix, and Voldemort's current actions, but he lashes out in anger because he has been left-out all summer at the Dursleys. He also realizes that his godfather, Sirius Black, came from a Dark Wizarding family.
Later that night, Harry dreams about studying weapons in Care of Magical Creatures (OP6).
The Advance Guard escort Harry to No 12 Grimmauld Place
Certainty
Inferred from canon
Type of Event
Wizarding world
Commentary
Tags: anger dreams family heirloom flying guardian guards safehouse safety