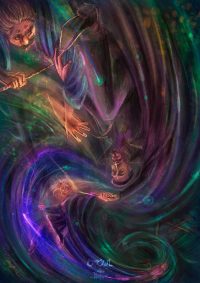 Apparition as seen from the place a wizard is leaving.
References from the canon
Daedalus Diggle says that he, Hestia Jones, and the Dursleys will be driving for about 10 minutes before Disapparating to the safe location picked out for the Dursleys (DH3).
Mundungus panicked and Disapparated when Voldemort came at him (DH5).
Hermione recommended Disapparating and heading for the countryside from Tottenham Court Road (DH9).
Disapparate
Pronunciation
dis-AP-a-rate
Associated terms
Apparition
Commentary
Etymology
"dis-" opposite of, from L. "apart" + "appareo" L. to appear
Pensieve (Comments)