"THE DARK LORD LIES ALONE AND FRIENDLESS, ABANDONED BY HIS FOLLOWERS. HIS SERVANT HAS BEEN CHAINED THESE TWELVE YEARS. TONIGHT, BEFORE MIDNIGHT . . . THE SERVANT WILL BREAK FREE AND SET OUT TO REJOIN HIS MASTER. THE DARK LORD WILL RISE AGAIN WITH HIS SERVANT'S AID, GREATER AND MORE TERRIBLE THAN EVER BEFORE. TONIGHT . . . BEFORE MIDNIGHT . . . THE SERVANT . . . WILL SET OUT . . . TO REJOIN . . . HIS MASTER. . . ."
-- Professor Trelawney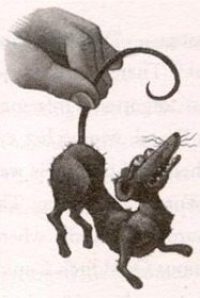 OWLs and NEWTs are coming up and everyone is studying, exam week arrives, Buckbeak's appeal is scheduled, Professor Trelawney unknowingly predicts the return of the Dark Lord, Harry, Ron and Hermione use the invisibility cloak to visit Hagrid, try to comfort him, Hermione finds Scabbers in a milk jug, men come to execute Buckbeak, Harry, Ron and Hermione go out the back door under the cloak and Scabbers goes berserk.
Calendar and Dates
This chapter begins just after the previous previous chapter, briefly sketching the events of the end of May, before arriving at the main scenes that take place on the last day of final exams, the day of Buckbeak's appeal. Since the decree of execution gives the date, we know that the chapter ends on the sixth of June.
The End of PA
The End of PA: Chart Showing the Events of the Evening of June 6
Interesting facts and notes
...still looking everywhere for her Arithmancy book.
Consequently, Numerology and Grammatica was a third-year textbook in this subject.
Exceptional character moments
None yet.
Memorable lines
'Has either of you seen my copy of Numerology and Grammatica?'
'Oh, yeah, I borrowed it for a bit of bedtime reading,' said Ron, but very quietly.
Hagrid was not crying, nor did he throw himself upon their necks. He looked like a man who did not know where he was or what to do. This helplessness was worse to watch than tears.
Words and phrases
Characters Introduced
PA
16 — Professor Trelawney's Prediction
Abbreviation
PA16: Professor Trelawney's Prediction
Commentary
Pensieve (Comments)
Tags: comfort exams execution hot master midnight panic predictions return revision/studying servant study voice