"And finally, I must tell you that this year, the third-floor corridor on the right-hand side is out of bounds to everyone who does not wish to die a very painful death."
-- Albus Dumbledore (PS7)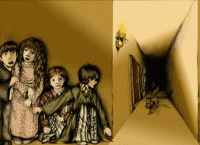 Also known as the Forbidden Corridor, this is where Fluffy guarded the trapdoor to the hiding place of the Philosopher's Stone. Students are advised to avoid it if they do not wish to die a painful death, as per Albus Dumbledore's welcome speech at the beginning of Harry Potter's first year.
Commentary
Tags: forbidden guardian guards locked magical concealment protection search/searching