"Well -- yeah -- how many three-headed dogs d'yeh meet, even around Hogwarts? So I told him, Fluffy's a piece o' cake if yeh know how to calm him down, jus' play him a bit o' music an' he'll go straight off ter sleep --"
-- Hagrid (PS17)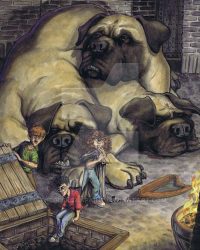 A dog with three heads,  Fluffy is the only named one in the series.
Hagrid had a huge three-headed dog which he called Fluffy (PS9, PS11, PS16) which he bought from a Greek man in a pub in Hogsmeade. Originally reported to be living in the Forbidden Forest (BP), Dumbledore later sent Fluffy back to Greece, his land of origin (JKR:Tw).
The only way to avoid Fluffy was to put him to sleep with music (PS16). A flute that Hagrid gave Harry for Christmas did the trick.
Commentary
Notes
The Muggle name for the sleepless three-headed dog who according to mythology guards the gates of Hades is "hellhound." The three-headed dog's name was Cerberus, and the only time when he was ever overcome save by brute force was when the great musician Orpheus sang him to sleep.
Pensieve (Comments)