"I'm going out of here tonight and I'm going to try and get to the Stone first."
--Harry Potter (PS16)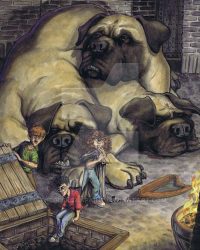 After finding out that Dumbledore is gone from Hogwarts, and being unable to convince McGonagall of any danger, the trio decide to go through the trap door themselves to protect the Stone.  Neville tries to stop them in a show of bravery only to be hit with a Full-Body Bind by Hermione. The three encounter Fluffy and use the music of the wooden flute Hagrid gave Harry for Christmas to put him to sleep.
Timeline Notes
The dates of this event are contingent on the dates of exams in Harry's first year. We are given dates for exams in books two and three--the first week of June--but that doesn't seem to be a hard and fast rule. The calendar for this book gives the date as June 4, based on the exam dates in the other books, but here on the timeline we'll play it a bit safer and just go with "early June."
The Trio follow Quirrell through the trap door
Certainty
Inferred from canon
Type of Event
Wizarding world
Commentary
Notes
Harry would have been out a broomstick and 12 Sorcerer's Stones if he would have been kept accountable for the bets he made about Snape being the one behind trying to steal the Stone/coercing Quirrel into helping him..."And I'd bet my broomstick he let that troll in, to create a diversion!" (PS11); "All the same, he'd have gambled twelve Sorcerer's Stones that Snape had just left the room..." (PS15).
Pensieve (Comments)
Tags: death heroism professors protection